Sports, But Make It Electronic: Catching Up With St. Joe's Esports Team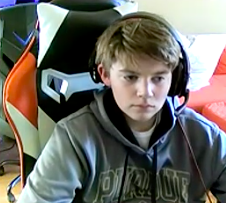 Saint Joseph's Esports Team Rocket League Division smashed Wabash Black in their first win of the season with a score of three to zero. The idea of an Esports team is a relatively new concept to Saint Joe. Esports are, essentially, just what they sound like: students playing sports, but electronically. Of course, the name of the games have changed too. Instead of soccer or baseball, the team plays titles like League of Legends or Super Smash Bros.
In fact, the Esports club organizes itself into four main divisions centered around these specific games each group specializes in. The division interviewed here, the Rocket League Division, is made up of Jacob Dimino, Quinn Freeland, Aiden Zwiller, and Patrick Green. The other three divisions are for League of Legends, Overwatch, and Super Smash Bros, with Mr. Davidson as the moderator for the entire club.
Regardless of division, all groups practice team building skills and hone their talents, much like any sport, and stay hard at work, meeting in person or over Zoom while they play. Also like more conventional sports, Esports even offer their own range of scholarships from colleges. These tournaments might be online, but they still definitely have real world consequences. 
The idea of playing a sport without any physical contact makes many wonder if it even counts as a sport. However, according to St. Joe's team, Esports are just as mentally demanding— if not as physically— as more traditional sports. Thus far in their season, the Esports team has won one official game in Rocket League and countless smaller, isolated skirmishes outside of their official league. They are always on the lookout for new talent, although sign-ups are closed until next year. The team shared that they would like new players well versed in Overwatch and League of Legends, in order to fill out their third and fourth divisions, which are currently understaffed and therefore out of commission. 
Moving forward, the team remarks how they mainly hope to refine their techniques and learn how to better work together. "I'd say that just, in general, we're hoping to make good connections and make it as far as we can get," says sophomore Jacob Dimino on the Rocket League Division's goals for the rest of the year. This being the first year the school  has ever done something so unorthodox, few things are set in stone. The current team reflects that they're thrilled to be the first to bring this club to Saint Jospeh High, saying that they're enjoying being pioneers for the club and looking forward to the future of Esports here.