Musical Cast Learn from Broadway Actress Hannah Elless
St. Joe Godspell performers get tips from one of the original broadway actresses.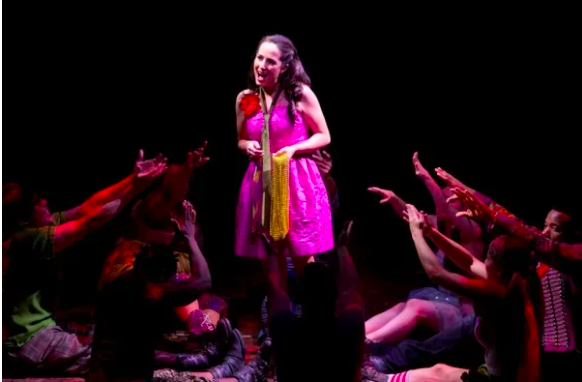 Saint Joe Theatre has had a very unique musical season this year due to the many challenges caused by the Covid-19 pandemic. These challenges are not stopping this year's production of Godspell. In fact, the cast of this year's production were able to have a virtual conference with one of the original performers from Godspell's Broadway run.
Hannah Elless started her career doing community theater in Kalamazoo Michigan. She graduated from Western Michigan University with a Bachelor's degree in Music Theater Performance. Elless then performed in Chicago before doing a brief tour with Mamma Mia the Musical.
Hannah told the story of her Godspell audition. She was given a scripture passage and told to relay the story of that passage as best as she could. Elless prepared a song telling of her scripture passage. Despite wowing the judges and being one of two to make the final callback, the other actress was chosen.  This setback did not stop Elless from continuing her acting career. She began to travel while performing in Mamma Mia. This was cut short, however, when she was asked if she would still like to perform in Godspell on Broadway – replacing the actress who had won the part initially. Elless went on to perform for the majority of Godspell's broadway run, alongside noteworthy actors such as Corbin Bleu, most known for his role in High School Musical.
When asked about the audition process and starting off in the performing industry, Hannah Elless made it clear that kindness goes a long way. People notice how performers act off stage. It is often just as important to be a good person to work with as it is to be a good actor. Connections matter in the acting industry. Good first impressions and a positive attitude can be the difference between being denied an audition and landing a role.
The entire cast enjoyed the opportunity to hear from a renowned actress who was so willing to share her expertise with the Saint Joseph. community.