Support for Giuliana Mendez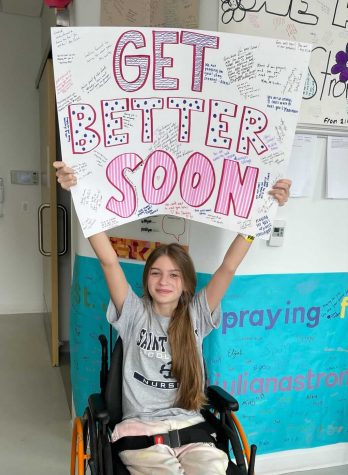 On February 5, an unfortunate tragedy occurred to a 13-year-old girl, Giuliana Mendez, her mother Kassandra Zwierzynski, and four siblings as well. It was a car accident that happened on Grant Road in South Bend, hit by a 32-year-old driver, Stephen Stopczynski. This accident resulted in minor injuries to the family except for Giuliana, who received a serious spinal injury, and an unfortunate death to the driver that hit the family as well.
The spinal injury caused paralysis from the waist to her legs and many fractures as well throughout her lower body. Not only was that her injury, but there are also tears through her diaphragm, damage to her colon, and injury to her abdominal wall as well.
This injury resulted in her paralysis during her accident and the surgeons were unable to stabilize her spines, so she was transferred to Riley hospital for better treatment. She is staying there for a while until she can gain a bit of mobility. After that, her mom will try to get her into Shirley Ryan AbilityLab for further treatment and rehab in Chicago, which is the number one rehab center in the country.
The main goal is to try to get Giulianna to walk someday and so far, she is doing much better with a smile on her face, but the family is facing a huge financial issue to pay for the hospital bills, their damaged car, and other survival needs as well. With her father passed away about a year and a half ago, Kassandra has to work multiple jobs to keep the family together.
Giulianna is currently an 8th grader from Saint Pius and a dancer. She planned to come to Saint Joe next year as she was accepted and this situation caught the Saint Joe student government's eyes. Alexis Kintzele reached out to more people like student ambassadors and counselors and they agreed to set up a dress-down day last Wednesday to help raise money and support the family.
"
I think it's important for us to be aware of our surroundings and to help others in need especially in our Saint Joe community because Giuliana being an incoming freshman makes the situation that much more important"
— Alexis Kintzele
The entire Saint Joseph community wishes Giuliana the best as she continues her road to recovery.