Deb Haaland: America's First Indigenous Cabinet Member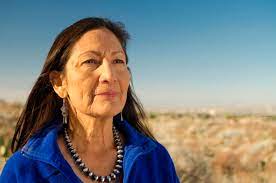 On March 15, history was made as the Senate approved Deb Haaland as the Interior Secretary, making her the first Indigenous cabinet member in the United States. "Auntie Deb", as many indigenous people call her, marks a new wave of inclusion within the government.Her position makes this moment all the more
powerful: she is in charge of over 500 million acres of public land that had been seized from Indigenous populations across the nation.Biden has pledged to work more closely with Native tribes within the country, making this his first step in making their voices heard.
Haaland herself is an inspiration to many. Before being elected to congress in 2018, she had been a single mother struggling to make ends meet. The Laguna Pueblo woman was born in a military family, with her father in the Marine Corps and Mother in the Navy. She bounced from town to town throughout her childhood with each new posting.
As one of the first two native women elected to congress, Haaland is an inspiration and a strong female to look up to for many young girls across the nation. This moment is especially significant as it falls in Women's History Month. Indigenous girls now have a role model to show that they can be a voice for themselves and shouldn't be afraid to speak up.