Spring Break Protocols
Spring Break is coming fast, on April 2nd, and that means a lot of Saint Joe students will be traveling across the country. But in the midst of a global pandemic, the Saint Joe community needs to be vigilant while also having fun on vacation. According to the "March 12 Soundings", Mr. Kennedy said that Saint Joe will be following the guidelines that the CDC has in place for Spring Break traveling.
Attached to the email is a link to the CDC website that details the guidelines that Saint Joe will have in place for Spring Break. When brought to the website, the list of guidelines is set out as followed in the picture: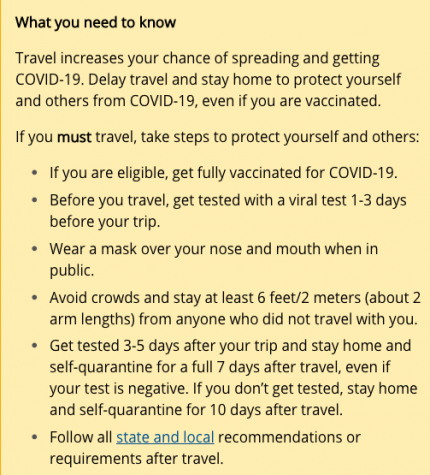 This means that if you are traveling you should try and get tested before and after your trip in order to make sure you do not have COVID-19. Also while away from South Bend, the CDC stresses maintaining social distancing and to properly wear your mask over both your nose and mouth. The final point is to self-quarantine for at least a week upon your return, regardless if you test negative, out of precaution. After all, it is better safe than sorry when it comes to COVID-19.
When asked about Spring Break Mr. Kennedy said, "I love spring break, and I want everyone to have a relaxing, refreshing, and fun spring break while still being smart about their health and the health of others.  We can do both – have fun and follow prevention strategies.  If students are unduly exposed, then the CDC does provide guidance on what to do upon return, and we trust families to make these decisions as we all work together to keep our community safe and healthy." 
If you would like to self-quarantine the week before in order to ensure your safety before your trip, it is not recommended. When asked for his thoughts on the idea of a self-quarantine before Spring Break, Mr. Kennedy responded: "I am not supporting a pre-Spring Break quarantine. While I understand how important family vacations are, I also think it is important to be here for school and would like that to be a priority.  If a student is not present for school before spring break, they will be marked absent.  They can still join the remote class as this is consistent with our procedures all school year."
Saint Joe will not be having a set return to school plan for everyone but rather Mr. Kennedy is entrusting the students and parents in making the right decisions when it comes to self-quarantining. In the "March 12 Soundings" he says, "it is up to you to apply the CDC's travel guidance to your unique situation. We trust you to make careful choices, and thank you for helping to keep our school community safe and healthy." 
So please be safe Saint Joe, make sure to follow the rules in place of our Health Officials, and please self-quarantine if you have to in order to keep our community healthy. Enjoy your Spring Break!