Something Fresh is Coming to South Bend
What is that Building Next to the Ethanol Plant?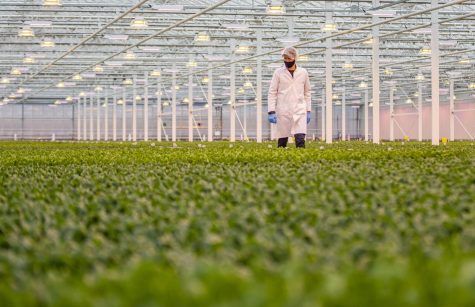 If you have seen the ethanol plant within the last few months you may have noticed a new building. This building happens to be a new green house and is roughly 174,000 square feet. 
Other competitors happen to be in states such as Arizona and California which are quite far away. Since Pure Green Farms' greenhouse is more local, it can supply fresher and less expensive crops. 
In this greenhouse they happen to be growing lettuce plants such as romaine. It takes roughly 25 days from the seeds being planted to when they can be harvested.
Since the plants in the greenhouse are isolated from the outside they don't need pesticides. The workers in the greenhouse also wear hair nets, gloves, and coats to ensure the lettuce isn't touched until the package is opened. As soon as the plants are harvested they are immediately packaged to help keep the lettuce as fresh as possible.
This greenhouse also hopes to be more sustainable. They compost the growing trays the lettuce is planted in, and recycle the soil and nutrients not used by the plants. They are also deciding if they would like to use the carbon dioxide produced from the ethanol plant to heat the greenhouse. 
This greenhouse will help produce more local and fresh lettuce. Look out for Pure Green Farms' lettuce appearing in your local grocery stores.