Biden reaches 100 million vaccine goal 42 days early, nation largely supports his handling of pandemic
Less than 60 days into his presidency, Joseph R. Biden Jr. has shattered his goal of 100 million vaccine doses in 100 days, pushing the nation closer to the finish line and bringing hope to a country ravaged by the pandemic.
After weeks of coordination and organizing with federal, state, and local officials, Biden has stated he wants to double his initial goal and hit 200 million doses by April 30th, his 100th day in office. This renewed and audacious goal of the Biden-Harris administration will be the centerpiece of his presidency moving forward as an average of 2.6 million doses enter Americans' arms everyday. 
"I know it's ambitious — twice our original goal — but no other country in the world has come close, not even close, to what we're doing," Biden said. 
The President also called upon all states to open vaccine eligibility to all adults by May 1st, with states following this directive. Around 90% of Americans are set to be eligible for the vaccine by April 19th as the White House plans to set up a dozen more mass vaccination sites by then. 
Although vaccines are efficiently reaching the American people, it is important to not let our guard down. With global variants emerging, spring break taking place, and cases rising opportunities for the virus to spread are multiplying. But, widespread cooperation can bring this pandemic to a close. "I'm going to reflect on the recurring feeling I have of impending doom," CDC Director Rochelle Walensky said, appearing to hold back tears during a briefing. "We do not have the luxury of inaction. For the health of our country, we must work together now to prevent a fourth surge."
Meanwhile, the President's success in containing the virus has been reflected in new poll numbers. According to a new ABC News/Ipsos poll, 75% of Americans approve of Biden's response to the pandemic, while 60% approved of his response to the economic crisis. The pandemic is suiting up to be one of the President's successes in his first year in office under the guidance of Dr. Anthony Fauci, his Chief Medical Adviser and Director of the National Institutes of Health.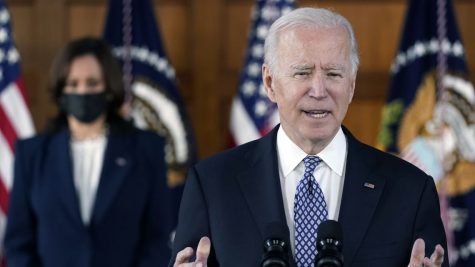 Undoubtably, COVID-19 remains top of mind for the Biden-Harris administration as the President and Vice President travel across the nation to promote their American Rescue Plan, which recently passed Congress and includes much-needed relief to Americans. Although the virus is still priority number one for the White House, no questions about the pandemic arose during Biden's first press conference since taking office, which took place on March 25th. White House Chief of Staff Ron Klain responded to the proposition that "coronavirus is no longer topic A" saying, "Pretty sure it is for the American people and the Biden WH."
But, others suggested that the absence of questions regarding the pandemic expressed Biden's success in controlling the virus. It is true that cases and deaths have decreased dramatically since the Inauguration as vaccines become available and mask-wearing is encouraged by our nation's leaders. Still, the fact that no questions about the pandemic arose reflects a change in media coverage over the past months, while exposing concerns that millions of Americans still have about a virus that has killed over half a million people.
"It's the same persistent disconnect we saw between Twitter and newsrooms on the one hand and voters on the other," said a former Biden campaign aide. "The questions are too often motivated by what personally entertains cable news panelists—like trying to predict the outcome of the 2024 GOP primary. When superficiality crowds out the top issue to the American people… that's a real failure."