Nobody: Movie Review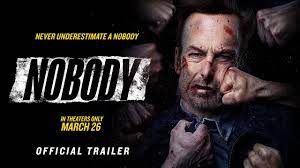 From action to suspense thriller, Nobody delivers both. The film features Emmy award winning actor, Bob Odenkirk, who plays the role of Hutch Mansell – a father who has to protect his family from thieves and a Russian crime lord.
The film, released on March 26, 2021, quickly gained popularity on the opening weekend. The film grossed $6.7 million across the United States and accumulated $5 million internationally. Furthermore, that brought the worldwide haul to $11.7 million, which is superb considering the budget for the film was $16 million. Currently, the filmed has gained a rotten tomato score of 81%, which is considered certified fresh.
The film features a picture-perfect family living in the suburbs. However, their world seems to fall apart when two thieves attempt to break into their home. The father, Hutch, has to fight the thieves off, but he ultimately decides to not harm them whatsoever. The film then quickly escalates to a bus scene where Hutch witnesses a woman being harassed by a group of drunk men. Hutch decides to interfere and protect the woman, but he essentially starts a violent war with a Russian crime lord named Yulian.
From here on, the film quickly escalates. It uses momentum from the bus scene to push through the rest of the story.
Overall, it is safe to say the film definitely earns its rotten tomato score of 81%. Since the film is so fast paced, you will find yourself walking out of the theater not even realizing it was a 92 minute film.