Places to go Hiking in Indiana
Spring is Here and it's Time to Hike!
As we approach fall,  the trees will begin to turn colors and it will be the perfect time to start hiking. 
First up is Bendix Woods, which you may know for containing some of the buildings owned by the Studebaker Car company. It's a short 20 minute drive by car from Downtown South Bend. There are several hiking trails you can take showing featuring the local animals. There is a boardwalk trail which you may even see some fallen trees caused by the beavers. Bendix is also a great place to go bird watching.
Next is Potato Creek which is a short 22 minute drive from Downtown South Bend. Here they have some longer tails along with bike trails, and other activities such as boat rentals. The pounds also offer a great place to go bird watching where you might even see a bald eagle.
Rum Village is a bit closer to South Bend being only a 7 minute drive or a 22 minute bike ride. Here they have a lager trail named the Rum Village Loop trail which is roughly 4.5 miles. So far they have documented over 100 species of birds in the park. Rum Village also has a ropes course if you're feeling brave.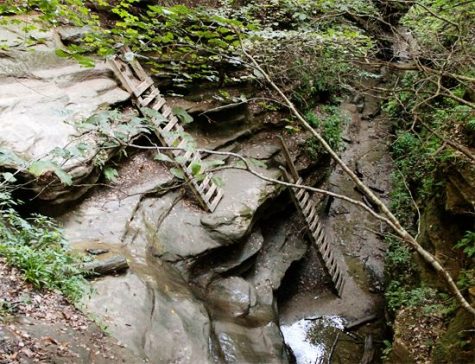 Now Turkey Run is much further than the others being over a 3 hour drive from South Bend. However Turkey Run does have some interesting geological features to check out. There are several ravines you can hike through along with a suspension bridge over Sugar Creek.
Spring is here, try to spend some time outside and watch the planet wake back up.