Saint Joe Lacrosse Boys Senior Night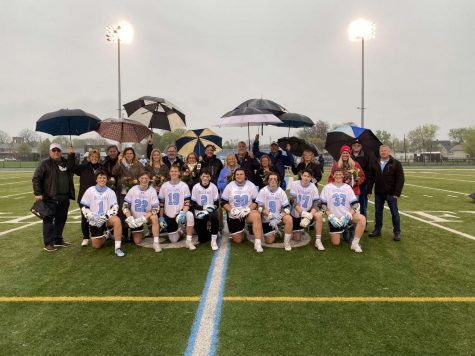 On Wednesday April 28th the Saint Joe boys Lacrosse team took on their crossed town rival, Marian Knights. On a rainy evening at Leighton Stadium the Seniors celebrated their senior night, the seniors that were recognized were (Captain) Luke Thomas, (Captain) Ethan FullenKamp, Alex Custer, Charlie Leonard, Tim Ciesialka, Kalvin Kerwin, Ben Bailey, and Mason Boothe.
The night started with the introduction of where all seniors are attending college, favorite memory, favorite teachers, and Advice to underclassman. After all seniors were announced, the game started with a quick 2-0 start with one goal by Sophomore attackmen Joe Saratore, and one goal by Senior attack Luke Thomas. The Knights would rally back and take a quick 3-2 comeback lead, and right before halftime the Knights would put one more in and take a 4-2 lead going into halftime. The boys, especially the seniors knew that this was not how their senior night was going to end.
At the beginning of the third quarter Freshman face-off Jack Tolbolski would win the draw and take it in for a goal. And just like that the boys were down one, quickly after sophomore mid-fielder Antonio Morell would strike one in for the Indians. Right before the end of the third quarter the Knights would strike right back and take the lead again.
Going into the Fourth the Indians came out strong and a quick goal by Joe Saratore would tie the game 5-5. The Indians would rally after a great showing of Defenseman lead by Senior Ethan FullenKamp and Alex Custer followed by Kalvin Kerwin, Quinn Boyer, and Charlie Leonard. A doorstep fead from Luke Thomas to Flynn Leonard would put the Indians up 6-5. Knights come back from a deep outside shot to tie it back up 6-6. Senior Attack Luke Thomas strikes right back from a feed from Joe Saratore to put the Indians up 7-6 with 2 minutes left to go. The Indians just have to hold on to the ball on the offensive side to win this game, and with ease the Indians pull away a rainy cold win against rival Marian. The Seniors got to celebrate a nice win on their senior night.
Thank you to all of the seniors for their hard work and dedication through out their four years. Now it is time to pass on the torch.