Triumph: Movie Review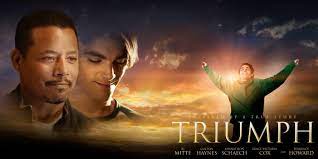 "Triumph" tells the story of a young teen, Mike, who aspires to join his high school wrestling team. However, this is not an easy objective for him since he suffers from cerebral palsy. The adults around him do not initially believe that he will be able to do it, but Mike's ambition and passion proves them wrong.
Although there are a few clichés here and there, the film is an overall amazing coming-of-age story. It is well produced and directed, and it has an amazing storyline that will not only keep you on your toes, but it will also have you grabbing for a tissue.
The film is directed by Brett Leonard and written by Michael D. Coffey. It is rated PG-13, and is categorized as a drama film.
It is definitely safe to say that the film deserves its 97% rotten tomato score. Not only is it it extremely hard for movies to receive a fresh rotten tomato score, but it is also extremely hard to receive an audience score above 80%. The film accumulated and received beyond both.
If you're looking for a film that will have you leaving the theater with tears almost rolling down your face, then this is the movie for you. However, since it is no longer showing in theaters, make sure to check it out on streaming services starting June 15th.