Friday Night Lights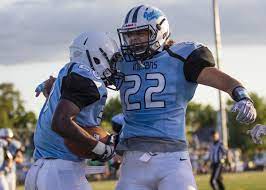 Last Friday our football team played John Glenn at home and dominated the Falcons.
We played as a team and played hard from start to finish. Our student section was so amazing and were cheering, yelling and screaming to the top of their lungs just to make sure everyone heard us and our pride for our football team. We won the game by the score of 27-9.
In the first quarter, the defense got us on the board with a forced fumble after great coverage of the opening kickoff that pinned John Glenn deep in their end.  Maddux Tarwacki recovered it for his second defensive touchdown of the year with Jacob Deahl kicking the extra point to get the score to 7-0.
John Glenn  then responded with a 20 yard field goal to get the score to 7-3 . Then Jacob Deahl was the first to score in the second quarter with a 38 yard field goal to push the Indians lead to 10-3. The Falcons didn't score in the second quarter. Kyle and Alex Ortiz both helped Saint Joe drive the ball and get one more touchdown in the second quarter allowing the Indians to boast the score  17-3 at halftime.
At the start of the third quarter, Marvin Lopez busted out with a lengthy run to get SJ to the 1 yard line. Then Alex Ortiz scored another touchdown to extend the lead to 24-3 .  John Glenn fought back with a pick 6 but the P.A.T was no good and they got the score to 24-9 . Jacob Deahl them went to kick another field goal 37 yards out getting the score to 27-9, securing the win for Saint Joe on a rainy evening. Next up for the football team is Adams at school field.