Phil DePauws' 22nd Year As Girls Soccer Coach
The spotlight upon Coach Phil DePauw and his impressive girls soccer team has become bright and brighter throughout the years. This year marks DePauw's 22nd year as a member of the English department and girls soccer coach here at Saint Joe, and 7th year as the varsity head coach of the Lady Indians. 
DePauw teaches AP English Literature, as well as News and Broadcasting and Film Literature at the college preparatory level. Both News and Broadcasting and Film Literature are results of his own creation. The film course was initiated within his first 10 years at Saint Joe, and News was implemented within the last decade. 
However, his accomplishments as a coach are just as impressive. In his 22 years of coaching, he has been a part of over fifteen straight sectional titles, and led the program to last seven. He captured his seventh sectional title as a head coach this season as the girls have already advanced to semi-state, securing DePauw's fourth regional title. This year DePauw passed a career milestone, surpassing 100 varsity wins to go along with over 100 wins as JV coach. His all time varsity record is 111-32-7 after the Indians went 17-3-1 this fall.
DePauw earned the honor of All-District coach this season, alongside his player, junior Isabella (Ella) Frick, earning Northern Indiana Conference MVP. He also had five players make all-district appearances, with three on the first team. His coaching ability is recognized at all levels of the sport, and in his career he has had three graduates of his program go on to play soccer at the D1 level, and multiple others at the collegiate level.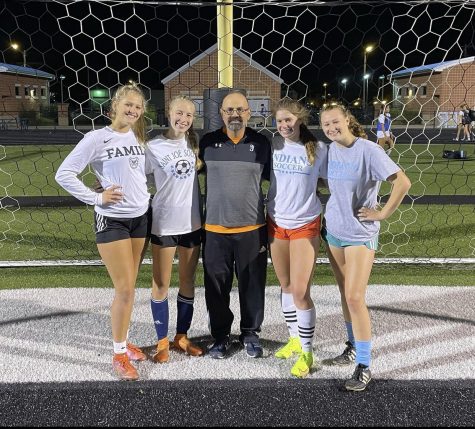 Coach DePauw and four SJGS members of the All-District 1st Team
I caught up with Ella Frick earlier today on how DePauw has helped herself and the team to become a force in the state. She says, "Phil is overall an amazing coach. He knows the game and he's really good at capitalizing on the players he has, both this year and in years past. He finds the perfect balance of fun to[and] working at practice and he makes this team very fun and successful."