Senior Spotlight on Mattux Tarwacki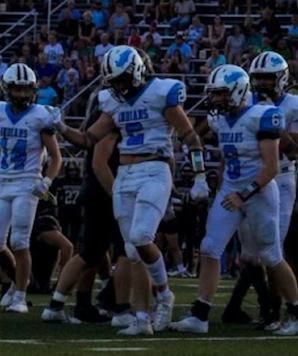 Senior Mattux Tarwacki, a 4-year varsity member, and outside linebacker has been killing it all season. He has helped lead the team to 5 victories with two interceptions and two touchdowns on the season – quite impressive for a defensive player.  
Tarwacki says the team is extremely young and has faced some adversity with injuries but when it has counted in the tournament everyone has been showing up. The football team played Logansport for their first sectional win with a score of 14-15. The second sectional game the team played Kankakee Valley and won 21-0. This upcoming Friday the boys will face off against New Prairie. 
Tarwacki has loved football every year, but says this year is especially different because he is a senior. "Being a senior means you are finally the leader of everyone, but it also comes with everyone watching you and looking up to you. As a senior I set the example for all of the underclassmen. These guys have become my family this season and it has been such a great experience."
Tarwacki has been playing football since he was in 4th grade. He has also played basketball and baseball throughout the years but says football has always been his one true love. All three of his older brothers played football and he always looked up to them. Tarwacki wanted to be like them. The smiles he saw on their faces, and the lifelong friendship he saw them make, he knew he wanted that same exact experience. When he was choosing high schools between Edwardsburg and Saint Joe, He knew Saint Joe would give him the family feel he was looking for. 
After choosing Saint Joe he said it was the best choice has has made and would not trade the time he has spent on the team and creating these friendships. Good luck in sectionals Maddux! Go Indians.