Stocking Stuffers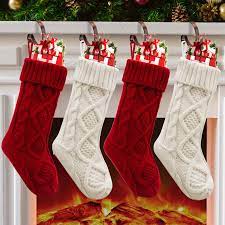 Christmas is right around the corner and gifts are flying off the shelves. With only a little over a month left till Christmas morning here are some quick stocking stuffers to make Christmas morning extra special this year.
When in doubt, think of skincare. With the cold dry air of winter, facial hydration is so important to everyone's skincare routine. Hydrating face masks, vitamin c serum, and Burts Bees Balms will protect skin and keep your loved ones glowing.
Another stocking staple is candles. Christmas scents can fuel the Christmas spirit through the whole house. Candles are cute, practical, and personable. Grab a candle with your special person's initials or in their favorite color.
If you want to go the practical route try getting your loved ones some essentials that always seem to be forgotten. Hair ties are always needed but never seem to be found. Another gift that never goes out of style is socks. Grab a pack of hair ties and a pack of socks and you are good to go!
If you are looking for homemade options, a heartfelt letter or a memory book is always a great way to show how much someone means to you. You are never too old to give a gift made with love.
Another great option is candy and sweets. Pick up some of your loved one's favorite candy or a special treat. This is another great way to go homemade. Baking a batch of your grandpa's favorite cookies or grandma's special banana bread.
Whatever you choose to give your loved ones, remember gifts selected or made with love are the most appreciated and enjoyed.