Book Review: The Prince of Tides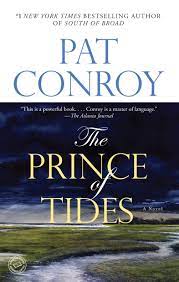 As the holiday season is approaching, are you finding yourself looking for a present for a reader in your life, or are you trying to find a travel book? Do you enjoy novels and emotional retellings with surprising emotional twists? 
YOU should check out The Prince of Tides by Pat Conroy! 
The novel follows Tom Wingo as he travels to New York City after his twin sister has another mental breakdown, threatening her own life. As he and her psychiatrist uncover more about what his sister revealed and what Tom can reveal about their childhood growing up in South Carolina, more emotions come to the surface. 
As you read about them, you are transported into the life of a football star in a small southern town. However, that life is not exactly what it sounds like. The Wingos carry their own struggles, from financial burdens to an erratic father. You are left on the edge of your seat and thinking, "How could someone imagine this?"
This does take some dedication, as it is a long book, but it is so worth it. Conroy does an amazing job at looking into those who struggle with mental health issues and PTSD, showcasing how people often find coping mechanisms in not-so-healthy ways. My favorite element to the story was watching Tom and the psychiatrist's relationship unfold. Tom was a retired high school football coach and Susan, the psychiatrist, has lived in lavish New York her entire life. As the two-piece together clues, their flirty banter drives you to yearn for them to be together. While the affair adds another level to the dynamics, it is truly breathtaking.
For other book recommendations, ask Mrs. Brenner or check out your local library!