Crane Kicking it into Cobra Kai Season 4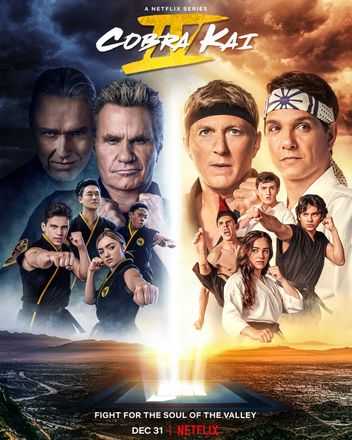 Netflix is a reviving empire with shows like the worldwide hit of Squid Games, and the Teen Heartthrobs of the Outer Banks, and the squeal to the '80s and '90s hit 4 movies franchise of Karate Kid in the fourth season of Cobra Kai.
Cobra Kai Season 4 is the continuation of the series with the return characters from the movies to revive rivalries and for the next generation to create new ones. This show is a Karate Drama similar to others like Star Wars, but where it sets itself apart from others is that every character is morally grey – leaving viewers to agree with many different characters at different points in the show.
The trend continues with the hype of season four with brand new characters, high stakes, and higher levels of combat. Along with the return of Old Villains like Terry Silver from The Karate Kid: Part 3 to stir the pot as he tries to help lead Cobra Kai to a victory at The 51st All Valley Martial Arts Tournament. In Cobra Kai's way to the champions spot is main character Daniel LaRuso's Miyagi-Do Karate and his Rival Johnny Lawrence's newly formed Eagle Fang Karate begin their three-way deadlock with John Kreese and the returning Terry Silver leading the Cobra Kai Dojo. As the next generation seeks to finish what their teacher could not.
Cobra Kai is going into its fourth and possibly final season – leaving fans wondering what will happen when it airs on December 31st, 2021.