Cheer, Cheer for Hahn!
Emilee Hahn the Sophomore on Varsity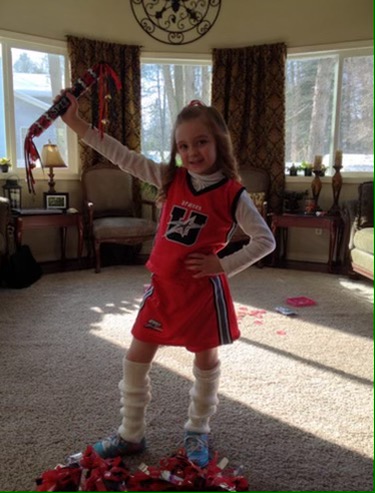 Emilee Hahn first started cheer in kindergarten at the ripe age of four years old. From doing cheer competitions to continuing cheer in high school. She plans to cheer for all four years of high school though she will not be continuing cheerleading through college. 
After spending freshman year on junior varsity Emilee had made her way to varsity by her sophomore year – which was a big accomplishment for her. This gave Emilee the chance to cheer at varsity games for basketball and football. Her favorite sport to cheer for is basketball. "I like the proximity with the student section and the cheers with the gym floor."
After being a base for two years she began flying. Her favorite stunts include a half and a toe-touch-basket. However there are some dangers that come from cheerleading: injuries.  Two of her worst were a three day concussion and a black eye.
Emilee balances school with cheer by getting her homework done during class, flex, or after practice. This includes studying for tests and finals. She loves her English class taught by Mrs. Franstead and her Intro to 3D taught by both Mr. Kuharic and Mrs. Kagel. Her most recent projects in the class was an avocado with a removable seed to hide little knick knacks.  Emille has a hidden talent: she dominates at Game Pigeon Cup Pong, having rarely lost. Emilee also has a self proclaimed motto. Her motto being that "If it is good enough for me, it is good enough for you."