Getting into the Christmas Spirit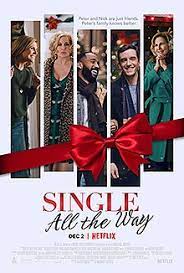 As the Christmas season is getting closer and closer everyone is preparing by watching Christmas movies, putting up their Christmas trees, and baking cookies. Christmas is a time to show your love and appreciation for others and to prepare for Jesus' coming.
Some favorite Christmas cookies you should try out are sugar cookies with decorative Christmas shapes like Santa Clauses, Hershey Drop cookies, and my favorite Rice Krispie Christmas wreaths.
Some Christmas movies that you should prepare for the holidays with are; The Christmas Stones, an older movie, and a newer Netflix Christmas movie Single all The Way.
The Christmas Stones is a whirlwind of emotions with lots of different things going on. This comedy-drama film is a heart-felt look into a regular family's Christmas experiences as everyone gets together for the holidays. The oldest son brings home his new girlfriend, soon to be fiance to meet the family. Without spoiling too much, it doesn't go as planned. Lots of family drama is expected when 4 kids and all of their families get together. Lastly, lots of family secrets are uncovered. It is a great funny heartfelt family film.
A second film to watch to prepare you for Christmas is Single all the Way. This is another family Christmas movie where everyone comes together for the holidays and world to find the oldest son a spouse. The oldest son visits the family from his high-paced Hollywood life. He comes home to his small town to visit for Christmas, and his whole family works to find someone for him to marry, and eventually moves back home to them. It is a very funny movie, and full of Christmas joy and Christmas Spirit.