Mrs. Smo Recognized with Christ The Teacher Award
An English Teacher with a Dedication to Her Students and School Community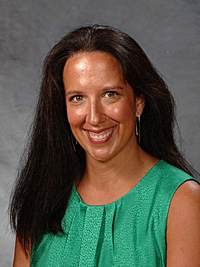 Andrea, Mrs. Smolinski, or just flat out Smo – no matter what you call her, most of the Saint Joe community would agree she is an outstanding individual, leading her to be nominated for the 2021 Christ the Teacher Award. The Christ the Teacher Award, formerly the Light of Learning Award, is presented annually to an educator from each school in the diocese who embodies Jesus Christ in both the classroom and in their interactions in extracurriculars. 
Smo currently teaches American Literature, Creative Writing, and News & Broadcasting/Yearbook. She enjoys each course for unique reasons, first finding relearning aspects of American history through the texts explored in American Lit. Her journalism roots are called upon and she appreciates "the opportunity to utilize [her] undergrad skill set" when working with the News. Creative writing holds a special place in her heart as she was "waiting and waiting" for that type of class to become available, as she would have eagerly enrolled in the course if it was offered during her own time as a Saint Joe student.
"I like to use that class as an opportunity to give people who are kind of reluctant writers, or people who don't think they are good at writing, to realize that writing is not just analytical, it's not just essays" and wants to open up her students to more flexible forms of writing with a class like that. 
In addition to teaching five classes, one of Smo's biggest undertakings at Saint Joe is the yearbook. With the help of a few students involved in the yearbook course, Smo compiles pictures from throughout the year to fill the 172 page book. She often can be seen snapping photos on the sidelines at games or popping up at other extracurriculars. Mrs. Smo is also the moderator of the newly formed writing club, which extends her passion for creative writing. When she is not busy with Saint Joe related activities, she's "running [her boys] to and from things" or spending time with her sister, continually making family the center of her life. 
Mrs. Smo went to Catholic school growing up, attending Christ the King for grade school and graduating from Saint Joe in 2001. Her appreciation for her own Catholic education, as well as her intention to send her kids to Christ the King, motivated her to apply for a position within the Diocese and has fueled her dedication to her work. She says,
"
It was a very easy decision when I started looking for jobs after I finished the Transition to Teaching Program at Bethel to first apply to the diocese and hope for a job in the diocese.
— Mrs. Smo
With her Journalism degree from IU and her teaching certification from Bethel College, she was hired as a middle school English teacher at Holy Family School. Smo then joined the Saint Joe faculty in 2016 after seven years at Holy Family. 
While at Holy Family, Mrs. Smo taught Julian Garcilazo, who would also attend Saint Joe and graduate in 2020. Recently, Garcilazo was named this year's Realizing the Dream scholarship recipient in which he had the opportunity to recognize an educator that has been especially influential in his life. He named Smo as that person, and with the honor, Smo will receive a $1,000 grant to put towards professional development. Smo commented that she was surprised to be recognized, but knows that she was able to form a strong bond with Garcilazo given their long history together. 
Mrs. Smolinski will be presented with The Christ the Teacher Award in early 2022 at the diocesan luncheon alongside the winners from the other Catholic schools in the area. From all the Saint Joe Family, Congratulations to Mrs. Smo on her incredible achievements!