Hitting the Slopes at Swiss Valley
A fun hidden gem in Michiana!
If you are looking for a new experience this winter, look to Swiss Valley Ski and Snowboard Area! The closest ski and snowboard resort in the area, they continue to offer great skiing and great service. Even though it is one of the smallest resorts in Michigan, the resort still has a variety of terrain, and great park skiing.
I managed to visit Swiss Valley this past weekend, and I couldn't be more happier with my experience. Even though it was a holiday, it had just enough people where the runs were crowd free, but the perfect amount of bustle which brings a lively feel to the resort.
The lift ticket line only had a few people in it, and I was surprised how little time it took to get my lift tickets and head over to the rental building to get my skis. This allowed me to have the maximum amount of time skiing.
If you are unaware how the resort is set up, it generally has 4 areas: A kitty hill with low grade slopes with a rope tow, a beginner hill that has a beginner run and an intermediate run with a small terrain park, one very long intermediate run, and a large area that is designated for advanced skiers with a large terrain park. Upon leaving the rental shop, you can either go across the driveway into the kitty slope, or you can go directly to the beginner/intermediate run. I find this set up very organized and logical.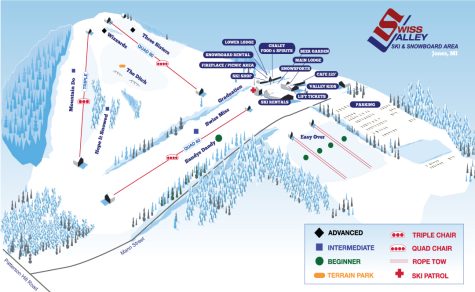 During my time there, I tested all of the runs except for the kitty slope, and the snow was great! Our area has had a decent amount of snow, but since Swiss Valley has an advanced snow making system, they had practically all of their runs open. The terrain park has been the best it has ever been, with multiple features, jumps, and rails.
There is still more to look for in the future of this season as well. The beginner terrain park has not been set up yet, and once they get a little more snow they can start creating it. Also upcoming is the popular mogul run in the black section, which will also come with more snow.
Swiss Valley is an underrated part of this area, and I hope more locals will come and enjoy the slopes!