Out With the Old, In With the Older?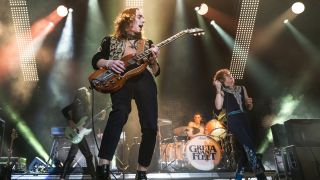 It has been 60 years since the Beatles took the world by storm and pushed rock music to the top of the charts. There it stayed with successors such as the Rolling Stones, Led Zeppelin, and Queen. But with the death of the icon Freddie Mercury, it seemed that classic rock began to die out as well. The void that was left has been filled with pop music and rap, while rock fans had to rely on listening to classics from the 1970's.
Not all hope is lost for the rock fans of the world yet. Many people went to the theaters to watch famous biopics such as 'Bohemian Rhapsody' and 'Rocketman.' Along with these films, stadium were also packed for the reunion tours of rock bands such as Guns N Roses, and Motley Crue. These revitalizing performances left the people hungry for something more.
In 2021, one band emerged and took the world by storm. The band Greta Van Fleet has risen to the top of charts and awards. Their style models that of Led Zeppelin and Rush. The lead singer's vocal range matches that of Robert Plant and his on-stage movement is similar to Freddie Mercury. With this band, future generations have something from the style of rock to hold on to.
The moment for rock music to come back is right now, but the genre still needs to improve. Future generations are falling in love with the classics and the new bands emerging but are seeking a diverse stage with female leads. If the expectations are met we can expect the 2020's to be the decade that brings back rock.