Album Review: Iann Dior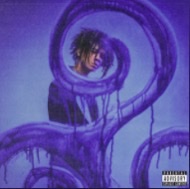 Iann Dior (real name Michael Ian Olmo) first rose to top billboards when he featured in the song Mood by 24kGoldn. However, his solo songs and albums have also seen much success. His song emotions has surpassed 270 million plays. Iann Dior definitely has a unique music style which his albums have reflected. Let's see if his new album lives up to his image.
Overall, the album was nothing special though I'm not going to pretend that I didn't enjoy the first half of the album. Depsite an original style and speed, there are no top billboard songs on this release.
Complicate it 
This song is his most recognizable song if we are discussing his style. We hear good speed, good heartbreak lyrics, good verses, a catchy main chorus, and even better beat drops. When this song comes on, you'll get Iann Diors full artistic ability and thumbprint.
fallin' 
The song starts off slow…and stays fairly slow. We hear Iann Diors vocal range change during the chorus, which is definitely new. It's such a relaxing song with lyrics that will have you either crying or swaying back and forth nodding your head. Iann Dior is really starting to experiment with his songs, and I'm not complaining. Fallin' is one of the best songs on the album.
V12 (feat. Lil. Uzi Vert)
I wanted to talk about this song because of the wasted potential that it had. The song started off up-beat, a good Dior song. A very solid chorus that makes your head bop…but Lil Uzi Verts' verse added absolutely nothing to the song. The song goes on and you mostly just hear the repeated main chorus. With the near perfect beat and catchy chorus this song would have been top 5 if it had a better feature verse, and overall just better verses.
thought it was (feat. Machine Gun Kelly & Travis Barker) 
I was most excited for this track. Iann Dior and Machine Gun Kelly have the potential to make one of the best pop/rock songs of the year. I was ready to be bombarded with guitars! Drums! Beat drops!  Instead it's just a normal paced song. To be fair, the lyrics sung in this song do have a passionate take on fame and success. The song talks about how Iann Dior finally made it in the music industry, he has successful albums, successful songs, loyal fans…but it "don't feel like I thought it would."
In conclusion, Iann Dior made a good album. Not a fantastic one. Not a jaw dropping, world stopping one. Nevertheless…it was a good album. There were songs that branched off his usual style, there were slow songs, sad songs, up-beat songs, and typical Iann Dior styled songs. I'm seeing Iann Dior experimenting with his music style and talent, and I'm excited for the many albums to come.