Must Watch Shows on Disney +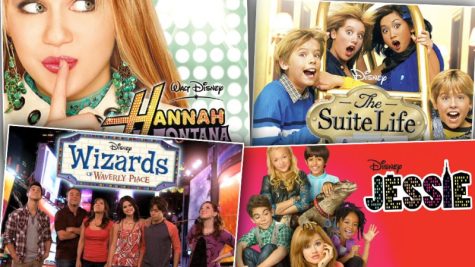 Disney + is a popular streaming channel that holds the key of most of our childhood. If you have Disney + here is a list of shows that you MUST watch!
Wizards of Waverly Place
An immaculate show staring the very own Selena Gomez. The show surrounds a family of wizards that go through high school drama, family love, family feuds, heartbreak, and magical adventures. This show is truly magical, not because of the wands and spells used in the show, but because it lifted my childhood spirits every time this came on the tv.
Hannah Montana
This is the most iconic Disney show in existence. The story of a teenage girl who is living the best of both worlds. Miley Cyrus plays a normal high school girl who also lives a double life as an international pop sensation. This show consists of 4 seasons that follow and grow up with Hannah Montana as she tries to balance normal school work and drama…whilst doing the same with roaring concerts and fans. Everyone has to watch this amazing show at least once in their lifetime.
Austin and Ally
Staring Ross Lynch, Austin and Ally is a show about a famous singer, his song writer and friends. Together they go through the ups and downs of Austins career, while having a few adventurous side missions in between. His songwriter Ally also happens to be his best friend and his musical savior…could this be leading to something more? I suppose you have to watch Austin and Ally to find out!
Liv and Maddie
One of my personal favorites is the show Liv and Maddie. The show surrounds two twins, one of them being Americas favorite pop star while the other is a hometown basketball prodigy. Both come from two totally different worlds and deal with their own struggles throughout the show. However, they will both always have that sister bond that will keep them sane. "Sisters by chance, friends by choice" (Liv and Maddie).
Boy Meets World
My favorite show was started in 1993 and continued all the way till 2000. We see the characters go from middle schoolers to college graduates. Through the 7 seasons we see the main characters Cory, Topanga and Shawn truly develop and grow. It's an incredible funny tv show of kids being kids, though they also tackle serious topics such as abuse, abandonment, and sexual harassment. The characters learn so much about the real world, and it's tough, but they always get through it together.
There are so many more Disney shows that deserve to be on this list – such as The Suite Life of Zack and Cody, Jessie, Gravity Falls, Phineas and Ferb, Good Luck Charlie – just to name a few. Though the shows listed above are still one of the best Disney shows ever aired. I highly encourage you all to spend a Lazy Sunday and turn on one of these shows!