Sisters Crush their Way to Victory in Tennis Individual State
Ashi and Anni Amalnathan Defeat Floyd Central for the State Championship in Doubles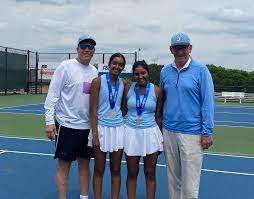 After the Saint Joe Girl's tennis team suffered a heart wrenching loss to Carmel in the semifinals, it wasn't over for the highly ranked 1 doubles team. Ashi and Anni Amalnathan advanced to the individual finals, where they would face Floyd Central for the state championship title. After winning the first set comfortably, the sisters held a steady 5-2 lead in the second set. However, Floyd Central wasn't willing to give up too easily. They battled back and managed to win two more games. With the score of the second set being 5-4, the possibility of going into a third set was not inevitable. However, Ashi and Anni were not phased.
"During the match I just thought about being consistent and closing the match," Anni said. She knew that she had to focus her energy into finishing what needed to be done, and had full confidence in herself and her sister.
After playing together for so long, the girls knew to trust each other that they would win the match together. Staying calm and trusting in your partner is so vital in doubles, so their close, sisterly relationship was beneficial to push through the short time where the match seemed tight.
In the last game of the match, Ashi and Anni had a plan to take home the state title. It was Anni's serve, which their opponents were never able to break at all during the match. Ashi was up at the net, waiting anxiously for that ball to come to her for a swift finish.
"I knew I had to be aggressive and set Anni up for points," Ashi said. She did just that, finishing the match with a volley up at the net which Floyd Central was unable to return.
As the Saint Joe crowd roared with excitement, Ashi "felt really happy and proud of herself and Anni". Even though she had just won state, the first thing that came to her mind was her sister.
The sister duo was undefeated, and are waiting for what is in store for them next season.