SJHS Spirit Club Gets Hype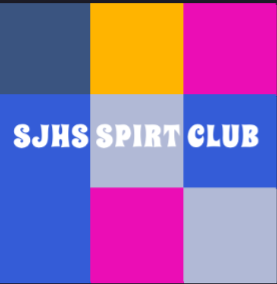 *JOIN SAINT JOE SPIRIT CLUB*
Saint Joe Spirit Club is a club at Saint Joe that selects themes for football and basketball games. Spirit Club also designs and makes banners for the home football games that correlate with the theme for the night. The club also organizes the two-school pep rallies that happen throughout the year. The club has plenty of school spirit and energy and is always welcoming new members. Spirit Club is co-moderated this year by Mrs. Kagel and Mrs, Wiginton.
Mrs. Wiginton said, "The group as a whole works very well together, which provides excellent ideas, themes, and banners for all of our spirit festivities."
This year the club has a senior committee that includes five seniors who lead the meetings and play the role of leading the student section for basketball and football games. Senior Ella Lindzy said "Come join Spirit Club; it is so much fun! Bring ideas and your art skills with you."
The senior committee wants everyone to participate in cheers during sporting events, and pep rallies. They also want everyone's voices to be heard at theme meetings. More information about the basketball theme meeting will be given out later. The club meets usually on Thursdays before every home football game to design and paint the banner. All are welcome!!
Themes for the rest of the 2022-2023 football season:
9/30 Penn- Neon
10/ 7 Benet Acadamey- Blue Out
10/14 Marian- Black Out