Art Exhibits You Can't Miss This Fall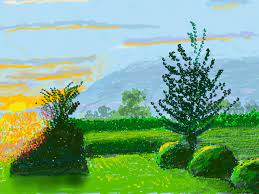 Art of all kinds is a beautiful tool to unite and inspire us, and here in South Bend there are many beautiful exhibits and creativity sparking experiences just beyond our fingertips. This Fall there are many one of a kind experiences available to view and take part in within South Bend and the surrounding areas, so here are some that I recommend you make your way over to if you are a lover of art or in need of something to get your creative juices flowing.
Visualizing Innovation– the SBMA
Visualizing Innovation is currently on display at the South Bend Museum of Art, and it is a series of murals created by local muralists who were inspired by the words and ideas that various community leaders expressed in a discussion about the meaning of "innovation" that was held for the purpose of the murals to be created. It is an abstract concept but one that is truly amazing to view visually, and it shows how the arts can represent other fields of thought such as business, technology, and education.
The Arrival of Spring- David Hockney- The Chicago Art Institute
Although it's a little more of a journey for us to get there, the Chicago Art Institute offers a wide variety of new art to view that is constantly changing, and the day trip to get there is well worth viewing this stunning array of paintings by David Hockney. Hockney traveled to France in 2020 (during the onset of the pandemic) to document the beautiful blossoming of spring as it can be viewed through the growth of plants and all the movements of nature. He painted a wide variety of trees and flowers in soft and beautiful color palettes, and the paintings are currently on display in the Art Institute until January of 2023. So check them out while you can!
West Side Story- The Morris Performing Arts Center (put on by the SBCT)
If you're more inclined to the performative arts and music, why not get swept off your feet by a musical that's being performed in one of the most beautiful and historic buildings in downtown South Bend? West Side Story will be put on by the South Bend Civic theatre members in collaboration with the South Bend Symphony, so the instrumental aspect of the show is sure to be incandescently beautiful, in addition to the acting that is thanks to some of our local talent. West Side story is a tale of overcoming prejudices of all kinds that dominated society in 1950s New York, accompanied by an action packed tale of rival gangs and a sweeping romance. This show is coming up in early October so purchase your tickets soon for a chance to attend!