Pizza Review: Luigi's Pizza
In the Mishawaka-South Bend neighborhood of River Park lies a small family-owned pizza place that caters to Dave Portnoy's thin and crispy style. Luigi's Pizza at 3624 Mishawaka Ave is close to all the prime locations of Mishawaka. Being located on the corner of Mishawaka Avenue and Logan, Luigi's  is close to downtown Mishawaka, and all that comes with downtown. Being tucked into the neighborhood as it is many people including myself never even knew it existed. However, now that I have become aware of it, we must give it a review.
Luigi's being in the location it looks as if it is trapped in the 1970s. I mean this in a good way, it has all the good classic Italian 1970s decorations. You really get a family-owned neighborhood feeling that many pizzerias used to give back the day. For anyone who is familiar with Rocco's, the decor of the building and overall feelings give you vibes similar to Rocco's, with the dark brick and the draped curtains in the windows. When you walk inside it has a very open- simple concept and a large kitchen area in which they make the pizzas.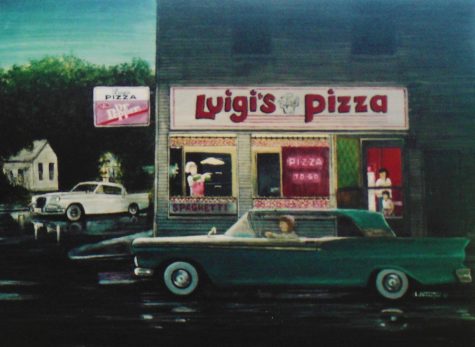 Now for the pizza review, the pizza at first glance looks a little strange. The pizza doesn't come normally in a box but it comes on a cardboard tray that was slid into a bag.  I was really surprised by the bag since almost every pizza place uses boxes but the bag combo still did the job, it kept the pizza warm. When I opened up the bag I saw a thin and crispy pizza that would excite Dave Portnoy. The pizza had a thin crispy cracker crust that is very enjoyable. The sauce was average at best, it was lacking some flavor, perhaps more garlic or basil. The cheese was high quality meaning it wasn't gooey and didn't have a lot of fat on the top. Finally, the toppings of sausage and mushrooms were decent, they were above average in quality, and seemed to be fairly fresh. Overall for the pizza, the crust was the highlight and the only weak link of the pizza was the sauce that was made. Because of the good crust and the decent toppings, this pizza received a 7.4.