Boarding School Books
Recommendations for Your Next Read!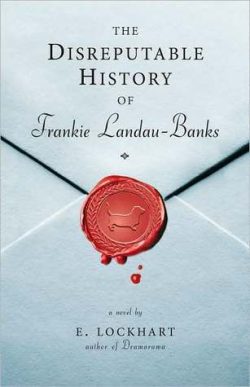 Boarding School.
From the well known pages of Rowling's Harry Potter to the beloved episodes of Disney's Suite Life on Deck, media revolving around the premise of young people away at school is undeniably popular. Free from the immediate authority of parents but filled with all the freedom and fun of constant close-proximity to friends, boarding school books, movies, and TV shows have something for everyone. Find yourself itching for an escape to a high school experience vastly different from your own? Check out these two popular novels (chalk-full of the boarding school trope) for your next read!
The Disreputable History of Frankie Landau-Banks by E. Lockhart 
Secret Societies. School-wide pranks. Basset Hounds and boyfriends. A girl nicknamed Bunny Rabbit who faces it all. 
The Disreputable History of Frankie Landau-Banks tells the story of (you guessed it) Frankie— a fifteen year old firecracker enrolled at Alabaster Prep: the prestigious boarding school attended by both her father and grandfather. Fresh off a growth-spurt, Frankie takes a trip to the Jersey Shore a couple of weeks before the start of term, and on the creaky wood of the boardwalk, bumps into a mysterious blonde boy a couple of years her senior. Charming as ever, he tells her he attends a different prep-school on the East Coast, a statement that explains the shock Frankie feels when she spots him on the campus of Alabaster just fourteen days later. 
It turns out Mysterious Blonde Boy is actually Alessandro Tesorieri (better known as Alpha): the top dog at Alabaster who took a leave of absence Frankie's freshman year and is now back as the current best friend of Matthew Livingston, the popular senior who has taken a sudden interest in Frankie. Suddenly thrown into a new social circle, Frankie begins to notice some peculiarities, like how Alpha, Matthew, and their friends always sneak off late at night and refuse to disclose their locations, or how the boys' girlfriends are always tasked with making mysterious invitations with Basset Hounds stamped on the covers.
Determined to not be excluded from what she suspects is some sort of all-male secret society, Frankie resolves to figure out what is going on at Alabaster and to put herself in the middle of it— even if it means betraying her friends and breaking rules along the way. 
If you are a fan of strong, witty female leads, elaborate pranks, and secret societies, The Disreputable History of Frankie Landau-Banks is definitely for you!
Looking for Alaska by John Green
Miles Halter leaves his Florida home a scrawny boy in search of what his favorite poet once called "The Great Perhaps." Obsessed with the last words of famous people, he wants to discover what makes life worth living, and just so happens to find it at Culver Creek, a preppy boarding school in Birmingham, Alabama.
Miles (ironically nicknamed "Pudge" by his roommate Chip) is captivated the moment he lays eyes on Alaska Young— the spitfire of a girl who lives down the hall. Alaska is beautiful and bold and frustratingly complicated. Her wild spirit attracts Miles like a moth to a flame, but a dangerous caveat to Alaska's allure is the ease with which she burns those close to her. 
The emotion within Looking for Alaska is as thick as the humid Alabama air that fills the lungs of its characters. Nostalgic because of its countless moments of friendship and young love, but tragic because of its reminder of life's fragility, the novel is perfect for anyone craving a story that will reel them in and leave them wanting more.