New Thriller Hits the Big Screen! "Smile," Is It Worth It?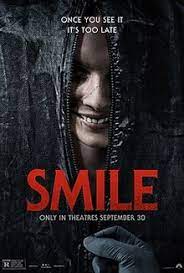 The horror film Smile seems to be all the rave in the world of cinema lately – coinciding with the Halloween holiday. Released to the United States on September 30th, the new thriller made $22 million from just 3,600 theaters in its opening weekend.
Following a traumatic experience that Dr. Rose Cotter has with one of her patients, she seems to be getting followed by continual frightening occurrences that she can't seem to explain to anyone, no matter how hard she pleads for help. In an attempt to keep you on your toes the entire movie, Smile is packed full with jump scares that do just that, keeping your heart rate up.
Despite mixed reviews, most have been positive, saying the movie accomplished its goal of being horrifying. After watching it, one movie critic claimed, "I believed the performances; I was compelled the whole time."
Another said, "A satisfying genre film that's well done and scary as hell, even if the evil curse story line has been done many times before."
Most praise and applaud for the movie revolve around the ability it has to shock viewers with the jump scares. Some negative reviews mostly commented on the repetitiveness of the story line and bad portrayal of mental illness. "I have seen my fair share of horror movies over the years but this one definitely has a different feel to it. It is chilling, unnerving, and very difficult to watch sometimes. It keeps you on the edge of your seat the entire movie. About half the theatre got up and left throughout the movie." This tells you the very degree of just how frightening the movie really was.
You can currently catch the film at Movies 14, Chippewa AMC 16, Wonderland, and the AMC theater in Elkhart.