Werewolf by Night: Marvel's Latest Hit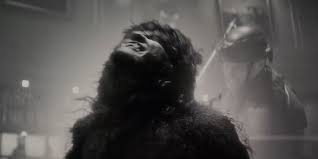 Imagine the following scene: the lights are dim, the moon is out, wolves are howling, and an eerie castle looms ahead. This is the setting for Marvel's latest project Werewolf by Night. The newest MCU project flips the script on the traditional storytelling techniques. It is a fifty-five minute special exclusively on Disney+, done almost entirely in black and white in the style of classic horror/slasher films.
Werewolf by Night aims to explore the more macabre side of marvel comics. The special tells the story of a group of monster hunters gathering at their leader's funeral, who end up competing for a relic that can grant immense power to whoever holds it. Classic comic-book characters Elsa Bloodstone (infamous hunter) and Jack Russel (the titular werewolf) serve as the protagonists, slashing and dodging their way through the film. While there are no explicit connections to the wider MCU, Werewolf by Night serves to delight long-time comic fans and new Disney+ subscribers alike.
Despite the short length and little connection to other projects, Werewolf by Night is being hailed as one of the best Marvel projects in recent years. Greyscale color-schemes with modern visual effects create the classic horror effect that has yet to be properly explored in the MCU. The last Doctor Strange movie made an attempt at horror, and Werewolf by Night delivered where the blockbuster could not, from blood splatter on the camera to the faint red glow piercing through the monotone shadows.
Werewolf by Night is a 10/10 masterpiece paving the way for Marvel projects to come.