Pizza Review: Halls kitchen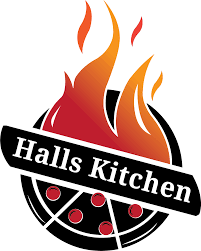 Looks can be deceiving, which was proclaimed in response to the Halls's kitchen one-bite review. Halls's kitchen formally known as Bourbon Street was founded in 2019 on the corner of Mishawaka ave and Twyckenham right across the street from Adams High School. Since then they have branched out into two locations, one in South Bend and one in Mishawaka. Along with the change of name, they also changed the menu. Hall's kitchen menu has added more items as they now specialize in pizza, subs, pasta dishes, and salads. But unfortunately, the updated menu did not rectify the sins committed under the Bourbon Street name for my pizza review team.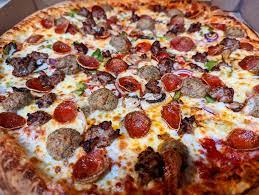 When Jordi and I arrived at Halls's kitchen, we initially set our expectations low because of the basic-looking building and the absence of classic pizzeria architecture.  But as fair and credible critics, we kept an open mind  entering to give them their chance to change our minds. Inside we encountered a "chain atmosphere," meaning there was not much character in the interior. Hall's kitchen layout has a large prep area with a long boxing-in counter. There are some tables to dine in, but because of the cluttered isolated atmosphere, I could not imagine many people dining in.
The pizza was basic with no distinctive value. The pizza seemed to be rushed, that being it had no undercarriage. The crust was very bland and had no char marks to be desired. The pizza's sauce was rather dreadful, lacking quality of flavor which was most likely the absence of garlic and basil. The only good thing going for the pizza was the fresh-looking curled-up pepperoni, but the upside of the pepperoni was greatly eclipsed by the low quality of the cheese and vegetables. The pizza overall was bad. Initially I gave this place a 6.5 but that score doesn't give the pizzas reviewed after it any justice. If I could go back and rescore it I would probably give it a score closer to 5.2, however, I don't make the rules, and when the score is said it is final.
This would not be a place I would recommend eating at. The restaurant's atmosphere is in the likes of Domino's and the service there was very lackluster. The pizza is barely worth eating as it would have been better used as dog food. If you're ever thinking about going to Halls's kitchen I would recommend going to Dominos, because at Dominos you at least get mid-pizza. Unlike the words of the late Juice WRLD, our first impression wasn't deception.