Saint Joe High Open House

Saint Joseph High School has a high level of involvement in the community, including our extensive outreach to high schoolers, whether they are current or incoming. One of the most successful ways we draw new students to the school is through the annual Open House. This years event was just as effective as ever, with a large percentage of the student body helping to facilitate and organize the occasion.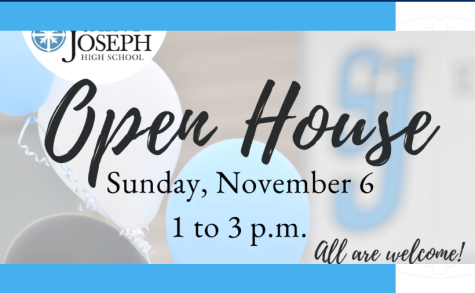 The Open House is held on the first Sunday of November every year, and for two to three hours in the afternoon, the school is available for interested visitors to attend, gather information, and get a feel for the environment and community. Visitors are able to have student lead tours of the school, speak to teachers about curriculum and classes, and even help themselves to complementary hot chocolate, cookies, and other goodies. If visitors desire to learn more about extracurriculars, the Alumni Gym hosts a co-curricular fair where interested students can provide contact information and have personal interactions with current Saint Joe High students.
Part of the success of the Open House is thanks to the willing participation of numerous groups throughout the school. In particular, National Honor Society members, Student Council officers and representatives, and various club and sports members all lend their afternoons to helping inform visitors and exemplify the ways St. Joseph High School is a good fit for whoever may attend.
NHS member and 12th grader Tess Collins speaks for many participating students when asked about her excitement to help out with the Open House:
"It's really great to see so many young kids who would want to come to school here, but it also gives me a chance to appreciate the community we have here at St. Joe. Everyone is so enthusiastic, and the relationships and skills I have built really show in events like the Open House."
After extensive planning and a long day of hundreds of families coming in for this event, the Open House was certainly a useful tool in showing the success and appeal of Saint Joseph High School, and was not only a way to extend our community outwards, but was unifying to our already passionate group of students. We hope to see you next year, whether it's as a visitor or as a facilitating student!