St. Pat's Park Incredible Features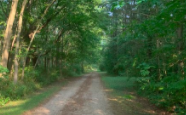 Looking for a place to go during quarantine or when you're bored? A place you might've not seen and should visit is St. Pat's Park at 50651 Laurel Rd, South Bend, Indiana. The park offers tons of activities across its massive 398 acres of forest trails and ponds along the banks of the great St. Joseph River.
The wooded trails are one of the great features at St. Pat's park. There are hundreds of routes to explore that even crosses Michigan's border. You can spend hours hiking, running, or biking on these trails, and you'll see lots of beautiful sights of the trees, animals, interesting plants, and other bodies of water. The trails offer the opportunity for races, scavenger hunts, hide and seek, and other creative ideas you can try with your friends and family.
Another great feature of the park is the St. Joseph River. Amazing trails alongside the river provide great views. You can use the river for canoeing, kayaking, and fishing.
Other great things about the park include many picnic shelter areas, volleyball courts, 9/11 trail, better bathroom conditions than average parks, and much much more that you'll have to find out and explore located at 50651 Laurel Rd, South Bend, IN 46637.