Messi – Will He Win it All?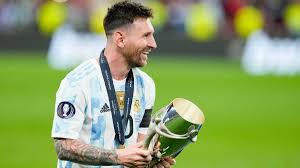 Lionel Messi has been playing excellent soccer in the 2022 Qatar World Cup as he once again proves to the world why he is the GOAT. The 5 '7'' technical wizard currently leads the Golden Boot race with 5 goals, as well as being tied for the most assists with a total of 3. After a spectacular showing against Croatia in the confident 3-0 win over Croatia, Messi and the Argentinian squad begin to prepare for the World Cup final. I believe I am speaking for a majority of the World Cup watchers when I say you could sense the raging urge for revenge heading into the Croatia game. You know that they had been thinking about how Croatia had knocked them out 3-0 in the tournament four years ago. The Argentinians are on fire, and they look ready for whoever comes out victorious in the Morocco and France game. 
For Messi, this is worth more than just a trophy. After a depressing runner-up finish in the 2014 Rio World Cup, Messi had received a lot of slander over his inability to attain national team trophies. He had won a couple, but they appeared to not be important enough to top the media slander. Messi had even retired from international soccer for a short period of time. The amount of pressure on this man's shoulder is insane, but there is a reason he is called the GOAT. The real test comes this coming Sunday. This game might just settle the GOAT debate.