Movies to See in 2023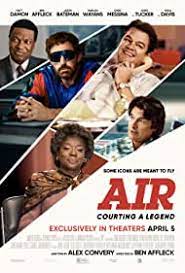 If you are looking to be at the movie theaters soon, this upcoming movie list is perfect for you!
From action blockbusters to a singing mermaid, you will find the perfect movie to watch at the movie theater this year! 
The hottest ticket in town is Air starring and directed by Ben Affleck. Air tells the story of Sonny Vaccaro (Matt Damon) and Nike pursuing a partnership with NBA rookie, Michael Jordan that changed the world of sports and apparel partnerships forever. Air is an R rated movie, so unless you are 18, you will need an adult to accompany you. Air released to theaters on April 5th, so get to the theaters soon! 
A movie to watch with the family is The Super Mario Bros.The Movie with Chris Pratt starring as Mario. It follows Mario's adventure to defeat Bowser's plan of conquering the world. It was also released April 5th and is a great movie for all ages!
A must watch for this spring is the live action version of The Little Mermaid directed by Rob Marshall and starring Halle Barry as Ariel. It follows the same plot as the animated 1989 film but with a live action take and certain modernized aspects. The Little Mermaid will be released May 26th and seeing this movie can be a great break from the end of semester finals!
Lastly, one movie to look forward to this summer is Barbie directed by Greta Gerwig, starring Margot Robbie as Barbie and Ryan Gosling as Ken. The rated R film is about the revolutionary doll, Barbie, getting expelled from Barbieland and setting off for happiness in a new world. It will be released on July 21st.