Girl's Track Takes 2nd Place at City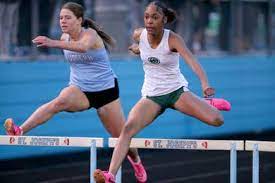 The Saint Joseph Girls Track team had their city meet on Thursday, April 27th. There were tons of amazing performances along with personal records(PRs) for some athletes that night contributing to the final score. Sadly, the girls fell eleven points short to Adams. Here's a breakdown of the events, their PRs and placings.
Over in Field events, we had long jump, high jump, shot and disc and pole vault. For field events, there were finals meaning they would have 3 jumps or throws and then if the top 8 would qualify in finals. Then in finals, they would have 3 more throws or jumps. At pole vault, Kate Fry took first place with Pr of 8-06ft Mary Claire took 4th with 7-00ft  and Charlotte Kaufhold took 5th with 7-00ft. At long jump, Paige Goben jumped 16-04.50ft, Maryella took 8th place with Pr of 14-08.75ft and Anna Hill took 9th jumping 14-03.75ft. At high jump, Grace Mazurek took 2nd with a Pr of 4-10.00, Lizzy Kloska took 4th with a Pr of 4-06.00ft and Paige Goben took 5th jumping 4-04.00ft. At discus, Alex Zanker took 3rd throwing 73-11ft, Natalie Feldkemp took 4th with 69-02 ft and Maddie Crowley took 8th throwing 59-07 ft. Lastly over at Shot, Natalie F. took 2nd with a Pr of 32-08.50ft, Jade Safeukui Noubissi took 4th with a Pr of 30-11.75 and Maddie C. throwing 29-10.50ft. Overall, an amazing night for Girls Field events.
Over at running events, there were also a bunch of amazing performances. There were prelims which was to see if they would qualify for finals. The prelims happened for the 100m, 100m Hurdles and 200m. The top 9 people would move on to finals to race. In the 100m Prelims, Eliana Carrasco got 9th with a time of 13.76 and Natalie F. got 10th with a Pr of 13.82. In 100m Hurdles, Ella Frick 3rd(16.67), Brennan Moser got 4th(17.43) and Lainey Eder got 5th(18.26). In 200m Prelims, Sara Prokop got 6th(27.69) and Michelle Carter got 8th with a Prd of 27.77. In the 100m Hurdles final, Ella F. got 3rd(16.07), Brennan M. 4th(17.36), and Lainey E. 5th(17.55). In 200m, Sara P. got 4th(27.86). In the 300m Hurdles, Ella F. got 2nd(47.49), Lainey E. got 3rd with a Pr of 50.17 and Jackie Dobreydney got 11th(58.38). In the 400m, Sara P. got 3rd(1:03.94), Michelle Carter got 5th with a Pr of 1:04.75 and Emma Betz got 11th with a Pr of 1:10.88. In the 800m, Lauren Frick got 1st (2:28.40), Margaret Hopkins got 4th (2:33.10) and Mia Ritschard got 6th (2:42.88). In the 1600m, Lauren Frick got 2nd place (5:42.67) , Tess Collins 3rd place (5:53.42) , and Lexi Juday 7th place(6:08.77). In the 3200m, Tess Collins got 2nd place (12.44.75) and Izzy Frabutt 5th place with a Pr of 13:22.75. 
Next up are the relays, the 4x100m, 4x400m, and 4x800m. The girls 4×100 was sadly disqualified due to passing the baton outside the exchange zone. The 4x400m took 1st place with a time of 4:22.47 and the 4x800m also got 1st place with a time of 10:29.83.
Overall, the Girls City Meet went really well with amazing performances across the board. It was an amazing night for the girls track team.