NIC Meet: St Joe Girl's Track takes 4th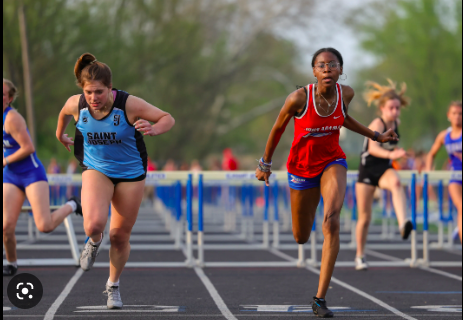 The Girls NIC Varsity meet was yesterday Tuesday, May 9th at Elkhart Central High school. 12 schools came out to compete: Saint Joe High, Bremen, Elkhart, South Bend Adams, Penn, Jimtown, John Glenn, Marian, New Prairie, Washington, Clay, and Riley. The Girls took 4th place with 73.5 points, Elkhart took 3rd with 103 points, Adams took 2nd with 106.5 points and Penn took 1st with 151 points. The top two runners from every event completed at this meet. Here's the results on how it went.
Starting over in field events: High Jump, Long Jump, Shot and Disc, and Pole Vault. In High jump, Grace Mazurek got 5th place (4'10ft)  and Lizzy Kloska got 9th (4'8ft). In Long Jump, Paige Goben got 11th place (14'10 ft)  and Maryella Wittig got 16th (14'2 ft). In Pole Vault, Kate Fry got 4th jumping 9'0 ft and Mary Claire McCourt got 8th jumping 7'6ft. Over in Shot and disc, Maddie threw her highest disc Pr of 100.8 ft and 30′ 3.5″ft, earning 5th place in disc and 8th place in shot. Natalie threw 76'6ft in disc and 31'8.5ft in shot, getting 13th in disc and 7th place in shot.
Over in the running events: 100m prelims, 200m prelims, 100m hurdle prelims, 300m hurdle, 400m, 800m, 1600m, 3200m, 4x100m, 4x400m, and 4x800m. In the 100m prelims, Eliana Carrasco got 14th place (13.51)  and Natalie Feldkamp got 16th place (13.74). In the 200m prelims, Michelle Carter got 15th place (28.08). In the 400m, Sara Prokop got 6th place with a time of 1:03.98. In the 800m, Lauren Frick got 2nd( 2:24.60) and Mia Ritschard got 10th place (2:42.26).  In the 1600m, Lexi Juday got 11th place with a time of 6:12.66. In the 3200m, Tess Collins got 5th place ( 12:37.83) and Izzy Frabutt got 8th place ( 13:11.88).  In the 100m hurdle prelims, Ella Frick got 3rd place (16:41) and Brennan Moser got 4th ( 17:30). In the 100m hurdle finals, Ella F. got 3rd place (15:94) and Brennan M. got 5th (17:32). In the 300m hurdles, Ella F. got 2nd (47.72) and Lainey E. got 4th (49.95). Lastly, our relays got 2nd (4x800m) with a time of 10:27.15 , 3rd (4x400m) with a time of 4:15.29 , and 4th (4x100m) place with a time of 52.83.
Now, the ladies move on and prepare for sectionals next week.