Grace Kidder is a senior at Saint Joe. Kidder has a big presence at Saint Joe through many clubs and activities. As well as being the founder of a new club she is also a tri-sport athlete. 
This fall Kidder has been named captain of the girl's soccer team and has taken on a much more involved, leadership role on the team. She then plans to jump right into diving starting November 21st. This is Kidder's first season diving despite having some experience on the Morris Park swim team when she was seven. In the spring she will lead the girl's lacrosse team as a captain once again. Last year the team made it to semi-state being knocked out by Park Tudor. Kidder also participates in the spring musical balancing it with lacrosse.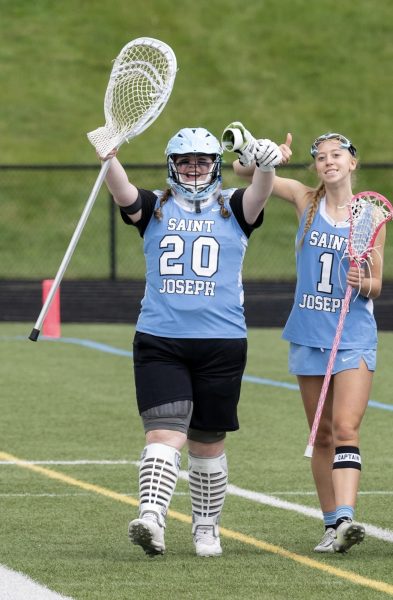 As well as being a captain of multiple teams, Kidder also leads a couple of clubs around St. Joe. This fall Kidder has started a new club called "St. Bakhita's." This club was formed to help rescue and educate victims of sex/human trafficking in Uganda, helping out the school started by Notre Dame students.  A four-year member of the "Right to Life" club, Kidder serves as secretary of the club this year. The club plans to make it to the "March for Life" in Indianapolis this year because the abortion decision has now been deferred to the state. 
As a part of "Peer Ministry" here at St. Joe, Kidder helps mentor freshmen during flex as well as tutors them after school. She has been an NHS member for two years and hopes to study Psychology in a premed track throughout college. Long term she hopes to become a pediatric oncologist.