Movies Reopening and Must Sees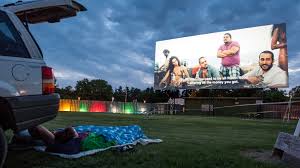 With theaters opening back up across the country, it's time to get back to the movies. COVID precautions are in effect and movie showings are limited, but there are still many options for fun weekend out. This is also a great opportunity to support our local theaters suffering in the trying times of this pandemic. 
For a virtually zero-risk visit, you may want to consider the Triway Drive-In Theatre in Plymouth, Indiana. Only a 30 minute drive from South Bend, this is 1 of only 325 drive-in theatres left in the U.S. This weekend there are four screens showing double features. For horror junkies: Halloween (1978) is followed by Possessor, both rated R. For fun Halloween movies with considerably less scares, Rocky Horror Picture Show, rated R, along with Little Shop of Horrors, rated PG are showing on screen 2. Following this theme, screen 3 is showing Hocus Pocus and Beetlejuice, both rated PG. If you are looking for a blast from the past, the final screen is showing Grease and Dirty Dancing, rated PG-13. All showings start at 7:30 Friday and Saturday nights. Don't miss out on a nostalgia-driven night out!
Traditional movie theaters have also reopened their doors to the public. Movies 14 located on Edison Rd. in Mishawaka, IN, is offering showings each day of the week. There are movies for everyone. Throwback movies, Beetlejuice and Hocus Pocus, are running all weekend. Star Wars fans can find showings this week for Empire Strikes Back's re-release in celebration of the movie's 40th anniversary. As always, the theatre is showing new movies as well. Christopher Nolan's Tenet, follows the story of a spy tasked with thwarting a plot to begin WWIII, and received a good Rotten Tomatoes score. The New Mutants, a new installment in the Marvel cinematic universe,also showing at Movies 14, has received mixed reviews. Now is the time to see them for yourself!
For special occasions, Cinemark theatres are also offering the cool opportunity for you to have a Private Watch Party! For select times every day of the week, you can reserve a screen for yourself, friends, and family and watch a film of your choosing. These watch parties run for $100 to $175 with some theatres offering a reduced price of $50 for weekday viewings. With the event, you also receive discounted concessions. So if you are struggling to come up with an interesting way to celebrate an upcoming birthday, this would be a great option. Seize the opportunity!
For more information on COVID-19 restrictions, guidelines, and precautions in theatres as well as showtimes and booking visit the websites for both Triway and Movies 14.