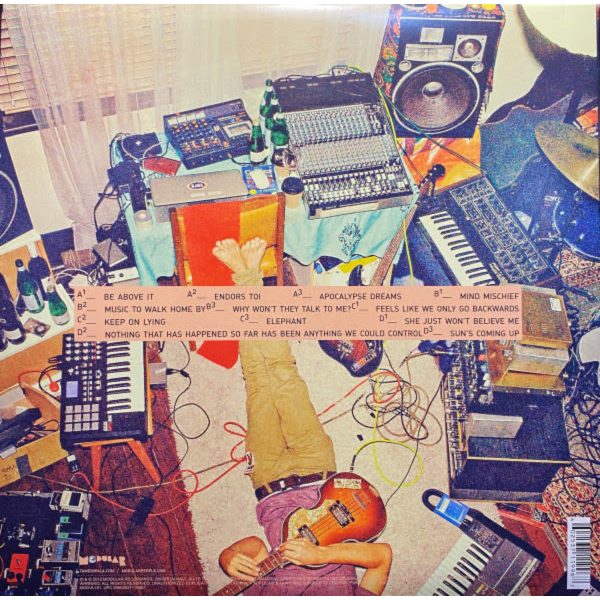 Tame Impala is a pillar of modern psychedelic pop, cementing this legacy with the 2015 album Currents but its predecessor 2012's Lonerism is Tame Impala's magnum opus.
Themes
Lonerism unsurprisingly explores ideas of loneliness and isolation. In the opening track,"Be Above It", Kevin Parker (the lone member of Tame Impala) talks about how he needs to be above his bullies despite his want to give in to them. This theme is followed up by the 3rd track, "Apocolypse Dreams". Parker sings "Are you too terrified to try your best?" talking about how his anxiety and want to be liked prevents him from operating at his full artistic and creative capacity. He also says,
— "Nothing ever changes
No matter how long you do your hair
Looks the same to everyone else"
This is meant to show how in his mind, no matter how much effort he puts into his music or appearance, everything is the same.
The 6th track takes the album in a different direction. "Why Won't They Talk To Me?" sees Parker asking himself over and over why the people he likes won't talk to him. This question is one everyone has undoubtedly struggled with, Parker perfectly exemplifies this by asking over and over and over again. This theme is carried over into what I see as the continuation of track 6, track 7's "Feels Like We Only Go Backwards". This is Tame Impala's most popular song, and for good reason. He talks about how his inability to relate to people causes problems with his significant other, but rather than fixing these problems they just backslide and never change.
Sound
The sound of the album is unlike anything I had ever heard before or since. A couple of main instrumental themes make this album: overblown drums, synthesizer use, and guitar riffs. The overblown drums are seen everywhere throughout the album, but are really clear in the 4th track, "Mind Mischief ". The drums in this song thunder along, taking you on a psychedelic journey through the song. Synthesizers, similar to the drums, are used throughout the album to create a dreamy, atmospheric soundscape. This is seen very clearly in the 5th track, "Music To Walk Home By." The guitar is harder to spot in the album than the synths or drums, but is nowhere clearer than in the album's 9th track, "Elephant." Here, Parker takes a complete turn from the psychedelia into garage rock, giving us this incredible taste of something out of The White Stripes.
Rating
The album overall is such a classic, such a good album without a single song I'd skip, it gets my first ever (and possibly only ever) 10/10 rating. Please, go listen to it!