Savage Mode II (21 Savage and Metro Boomin) Album Review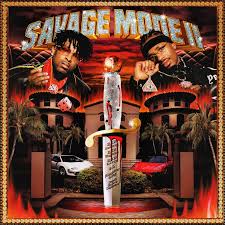 Being one of the most heavily anticipated releases this year, Savage Mode II marks the sequel to the album that brought 21 Savage and Metro Boomin to massive stardom.
Although this is a sequel, 21 and Metro are both quite different than they were on their initial debut all the way back in 2016. 21 has far more expression in his delivery and a much faster flow than he had before while Metro is utilizing much more soul sampling than in previous albums. On Savage Mode II, Metro's production can vary heavily stylistically from track to track, making this his most diverse album from a production standpoint ever. There's not just moody, psychedelic trap production here, but also elements of slight horror-core with beats on songs like "Many Men" sounding like they came from a John Carpenter film. There are even some references to Jazz on this album, with the saxophones on the track with Young Thug being genuinely gorgeous. The diverse array of beats on here makes the album listening experience much more engaging and smoothly paced than previous Metro collaborations.
While this may be Metro's most consistent album to date, the same cannot be said for 21 Savage. While 21 does showcase good flow in his verses, his hooks are quite lackluster throughout the entire album. Instead of utilizing witty bars or having an infectious or catchy refrain, 21 usually resorts to just repeating the song's title multiple times ad nauseam. His verses aren't bad though. While his lyricism isn't very complex and he does not show very much technical ability, he still delivers the "savage vibe" of this album effectively. While it isn't anything groundbreaking for trap or anything exceptional like The Carter III, this album still delivers a pretty consistent pack of cold-blooded tracks, and for the modern landscape of rap in the digital age, that is a lot.
7/10