Tumbling With Tessa: Senior Edition
This year, Terese (Tessa) Berente is a senior and is part of the varsity cheer squad. This is her 3rd year being on the cheer squad. What makes Tessa so spectacular is that she's able to back, base, fly, and tumble. Most cheerleaders are able to do, at most, two of those things. She plans on attending Miami University of Ohio or Notre Dame to study business. Depending on where she goes for college will determine if she will continue to cheer or not.
During her sophomore year, Tessa transferred to Saint Joe from her previous high school in Athens, Georgia. Since that time, she has been involved in Diving, Cheer, Track & Field, S.E.C.O. Club, NHS, Student Gov. all while consistently volunteering for her passion at Ten-Thousand Villages.
3 facts about Tessa;
Her favorite teacher is Mr. Goodrich
Her favorite cafeteria food are the cookies.
She loves the saint Joe uniform skirts.
Photo: Scott Leonard, Valentino's Studios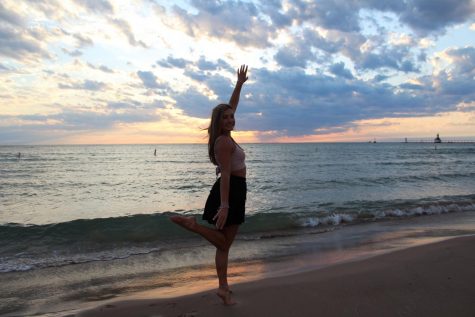 Photo: Tessa Berente