Album Review: 21 Savage:Savage Mode 2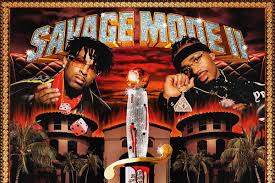 October 2nd, 2020, 21 Savage and Metro Boomin released their album Savage Mode 2. A concept album, Savage Mode II explores the struggles that 21 Savage dealt with on the hardened streets of Atlanta. These same struggles shaped him into who he is today.The album also features Morgan Freeman as the narrator – introducing many of the tracks. 
The most impressive component of the project is the growth and quality of Metro's sound combined with Savage's ability to tell a story no matter what beat is put in front of him. Tracks like "Runnin", "Mr Right Now" and "Many Men" feature some of the best songwriting 21 has ever penned.
Even though this album strikes a different tone than 21's last album, it presents many of the same characteristics that made his projects connect with listeners. Metro Boomin  diversifies his typical sound on Savage Mode 2. 21  enlists the talents of many artists on this album including Drake,Young Nudy, and Future.
Savage Mode 2 outdoes Savage Mode 1 with better flow and brilliant feature performances. Morgan Freeman's inclusion pushes this album to high marks.  I would give this album a 9/10 21.