Saint Joe Girls' Soccer Moves onto Semi-State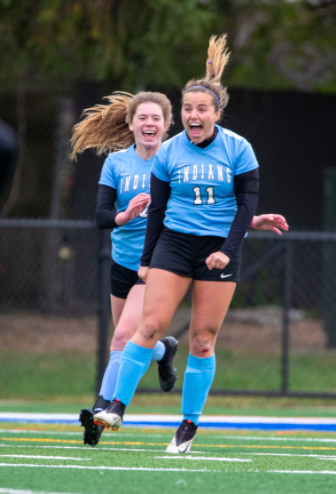 On Saturday the girls' soccer team defeated Penn 1-0 and Chesterton 2-0 in regionals, at School Field to advance to semi-state for the first time in 3A.
To start the morning the girls faced a strong Penn team at 10:00 AM. Saint Joe won 3-0 in the regular season matchup, and was confident, but ready for their big matchup against Penn who knocked them out in regionals the previous year. Penn played tough defense throughout the game, but had a difficult challenge of trying to keep NIC 1st team players, Georgia Place and Natalie Moore from putting the ball into the net. Penn's defense gave way, allowing Natalie Moore to dribble through three defenders and score in the 45th minute to put the Indian's up 1-0. Penn tried to be aggressive, but the lady Indian's weren't allowing anything on offense as goalkeeper Hannah O'Connell and the defense shut Penn out to win 1-0 and advance into the second game of regionals. 
In their second game Saint Joe battled Chesterton at 7:00 PM. The Indians were ready for another rematch as they previously beat Chesterton 3-0 in the regular season. The Indians got off to a rough start as Chesterton pressured the defense for most of the first half, however the defense never broke as they went into halftime tied 0-0. The second half was a different story, as the Indians were now the ones pushing the ball. The pressure paid off quickly as Natalie Moore put a shot on goal, and Georgia Place followed the shot by putting the ball into the back of the net in the 49th minute. Saint Joe continued to pressure after the goal and held the ball for most of the remainder of the game. Eventually Natalie Moore did just what she did in the Penn game earlier in the morning, by dribbling through three defenders and rocketing a high shot into the goal in the 70th minute to put Saint Joe up 2-0. The Indian defense did their job by not allowing a goal against the strong Chesterton offense.
The lady Indians have now won 3 of the last 4 regional championships and advance to Semi-State. Saint Joe will play #1 and 2019 State Champions Noblesville on Saturday, at Father Bly Field at 1:00 PM. To keep up with the girls season you can see scores and schedule on the Saint Joe website:https://saintjoeathletics.com/teams/2892138/girls/soccer/varsity , follow the girls soccer team on twitter @SJGSoccer and make sure to come out and support the girls as they look to head to the State Championship.