The Success of Alumna Madeline Raster
Raster left Saint Joseph High School to attend Harvard University where she played basketball.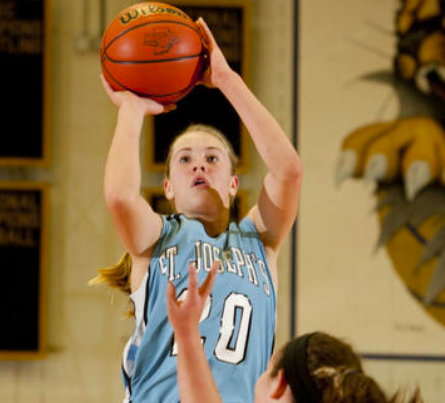 "
I felt that choosing to continue my education at Harvard wasn't just a 4 year decision, it was a 40 year decision. I not only grew as a person and a student, but going there opened a lot of doors for opportunities that I may not have had otherwise."
— Madeline Raster
When people hear Madeline Raster's name they remember her time as a great athlete and scholar at Saint Joseph High School.
Madeline Raster is the second oldest in a family of seven children. All of the Raster children have attended Saint Joseph's Grade School and then Saint Joseph High School, besides the youngest who is currently in 8th grade. Each of the Rasters are passionate about sports. Catherine, the oldest sibling played soccer at Saint Joe High and then continued to play at a D1 level, at IUPUI. Madeline followed her sister's footsteps by playing at a D1 level, but she went on to play basketball at Harvard. Raster graduated from Saint Joseph in the class of 2015. Let's see what led her to choosing Harvard and how Saint Joe helped her get there. 
With Harvard being a private Ivy League and one of the most prestigious schools, it was an easy choice for Raster to say yes to. Harvard recruited her for basketball, and playing basketball in college was a goal. When Raster visited Harvard's campus her junior year she was instantly attracted by the energy people had on campus. Raster lived her whole life in South Bend, and moving across the country along with new experiences excited her.
She said "I felt that choosing to continue my education at Harvard wasn't just a 4 year decision, it was a 40 year decision. I not only grew as a person and a student, but going there opened a lot of doors for opportunities that I may not have had otherwise." 
Raster had the opportunity to study Government at Harvard. During her summers in college she had internships to help her figure out what she was interested in. Her summer before her junior year consisted of coming home to South Bend and working for Mayor Pete Buttigieg and the City of South Bend. This gave her the opportunity to see how local governments function while also learning about her hometown in a way that many people do not. Raster then interned for the Massachusetts Attorney General's Office in the Criminal Bureau in the summer before her senior year. Here she worked a large-scale, public corruption case.
These opportunities improved Raster's experience and she said "This experience actually helped me figure out what I wanted to do after graduation." Currently she is working at the law firm Kirkland & Ellis in Chicago in the Investment Funds and Capital Markets groups as a paralegal. She is hoping to attend law school in the fall, after she applies this winter. 
Raster acknowledged how Saint Joe academics helped her immensely at Harvard. She said that the teachers at Saint Joe encouraged and helped her become a better writer. As a Government major she had to write numerous papers, and all of her teachers' help at Saint Joe became very useful. At Saint Joe Raster took honors and AP classes while also playing soccer and basketball. As a result she went to Harvard already knowing how to manage her time. This is a very important skill that D1 athletes need to master in order to find success. Raster said that time management "was something already in my toolbox. It really helped me balance both of those aspects of my life in college."
Saint Joe Athletics also helped Raster at Harvard. The coaches she had at Saint Joe encouraged and challenged her to be the best athlete she could be. Both her basketball coach and soccer coach helped her grow in her confidence and leadership. Raster showed her leadership skills on the Harvard Women's basketball team when she was selected as captain her junior and senior years. The teammates she had at Saint Joe also inspired her as an athlete. 
As a result of Raster being passionate about athletics, she served as a member of the Community Service Committee on the Student Athlete Advisory Committee. This was a group that helped with the policy-formation process regarding relevant and current issues in Harvard Athletics and the Ivy League.
Raster says this committee also "served to strengthen the community at Harvard within the athletic community and more broadly on campus."
Another way she helped Harvard was by working as a student caller for the Harvard College fund. Here she worked to assist the College with fundraising efforts. Raster's time management was shown once again when she was able to balance school, basketball, and get involved in activities she was passionate about.
Raster was very successful during her time at Saint Joe and Harvard. Her success continues now with a great job at a prestigious law firm. She also wishes to find additional success when hopefully attending law school next fall. Saint Joseph High School taught Raster many lessons in the classroom, the soccer field, and the basketball court which helped lead her to her success. As the Saint Joe Community, we should be very proud of her success and we should wish her luck in her future!