Redeemer Radio: The Saintly Program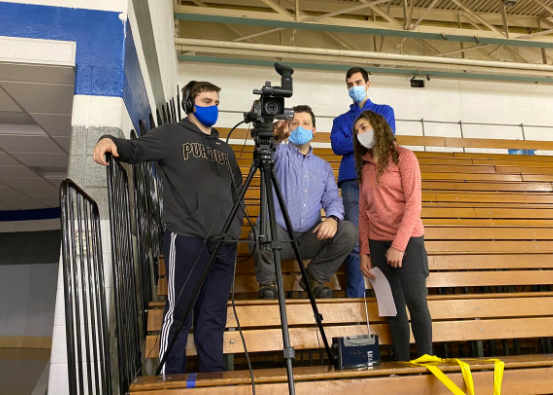 Not everyone figures out what they want to do in life, in highschool. Many students begin to experiment with multiple classes, internships, and extracurriculars that introduce themselves to possible future careers of consideration. Others do these things just out of sheer curiosity or interest in involvement. Whatever the case, Redeemer Radio has been able to offer three current Saint Joe seniors the opportunity to experiment with their interests, and has allowed for a development in a professional manner. Seniors Marie Achkar, Liam Fuller, and Zach Smith have all provided me with a personal view of the Redeemer Radio Internship, and what it has done to them. 
These three seniors have been able to obtain some sense of normalcy in this wild year that is 2020. They are all grateful for the opportunity to play sports this year, as it has allowed for our wonderful seniors to get involved with multiple sports.  Zach Smith, who was also a varsity Football player on both sides of the ball, sums up the Redeemer Radio as "a local, non-profit, catholic radio station, that provides an internship for covering high school sports to Saint Joe and Marian students." Marie Achkar, a varsity Cheerleader, mentions the appeal of the course "credit, which it has not been offered in previous years."
All three seniors were attracted for different reasons. Zach was drawn in due to his "love for sports and wanting to get a better behind the scenes look at sports media." Marie has "always loved working in front of the camera and interacting with people." Liam Fuller, a varsity Cross Country and Track runner, has always had a deep desire to pursue sports broadcasting professionally in the future.  All three seniors have taken a liking to the interview aspect of the program, which allows them to meet new and exciting players, coaches, and fans that have a love for the sports of their school. 
Both Marie and Liam know that they definitely want to do something that involves broadcasting, journalism, or media. Marie has applied to many of the great media schools across the country, and Liam knows that it's either between broadcasting or business. Zach is undecided, but he does know that he wants to do something with sports.
Regardless of where life takes them, they all are very appreciative of what the program has allowed them to do and experience. Each senior expresses satisfaction with their newfound knowledge of the basketball culture in Indiana. Liam Fuller even went as far as to say that it "has introduced [him] to Indiana's love for basketball. [He] never knew much about it since [he] grew up in New York, but the environment in Indiana is completely different and ultimately much more enjoyable."
All three shared favorite memories.  Marie recalled that "the day that I arrived at the John Glenn football game was interesting. Once I got there, I realized that I was the only one who was covering it that night. Me. All alone. I had never done that before and at first was terrified, but at the end of the night, I was proud of myself for taking a step outside my comfort zone and accomplishing something that I had never done before."
Zach recounted a specific game, remembering the girls' basketball regular season Holy War that Saint Joe won in overtime, calling that game was "special for sure."
Liam showed great love to the Saint Joseph High School Football's Coach Whitten, claiming that his halftime interviews with Mr. Whitten was his favorite. He "was always terrified to do them but I always got a good response from him which made it much more enjoyable." 
Behind every great student, is a great teacher, and that is where Mr. Angelo Di Carlo comes in. That's the guy who's always showing up at Father Bly Stadium or to basketball matchups; and yes, he loves his job. From Allentown, Pennsylvanias, a son of Sicilian immigrants, Mr. Di Carlo went to Syracuse University and studied broadcast journalism. He applied for, and earned, a job as a weekend sports anchor at WNDU. He was approached to come on board as the Sports Director at Redeemer Radio and create an internship program with students from Marian and St. Joseph high schools to help with their broadcasts of St. Joe and Marian high school football and basketball games. 
When asked about what he hopes to accomplish through Redeemer Radio, Mr. Di Carlo says "I want to continue to grow our internship program and give opportunities to St. Joe and Marian students to learn not only about broadcasting sports but to have a better understanding of video editing, marketing and social media. Our program was an internship only for two years. This year we are offering it for class credit. It's been a lot of fun to teach a class and offer additional feedback so the students can grow in their craft. This doesn't have to be just for sports fans who want to be sports broadcasters. You can learn a lot of life lessons by being a part of our class that can help you in college and beyond. I love being able to give back in this way and share the knowledge I've learned with the next generation". 
Whatever passion, and whatever career you may want to pursue, it is never too late to try something new. Though Redeemer Radio may still be developing, in the short time that it has been a part of the Saint Joe life it has touched the hearts of many. Redeemer Radio allows for the shared love of sports and broadcasting, with the wonderful plus of being able to spread the faith through faith. Marie, Liam, and Zach all walk different paths, but each path has been positively impacted by the opportunities they took.