Marty Harshman, From Student to Assistant Principal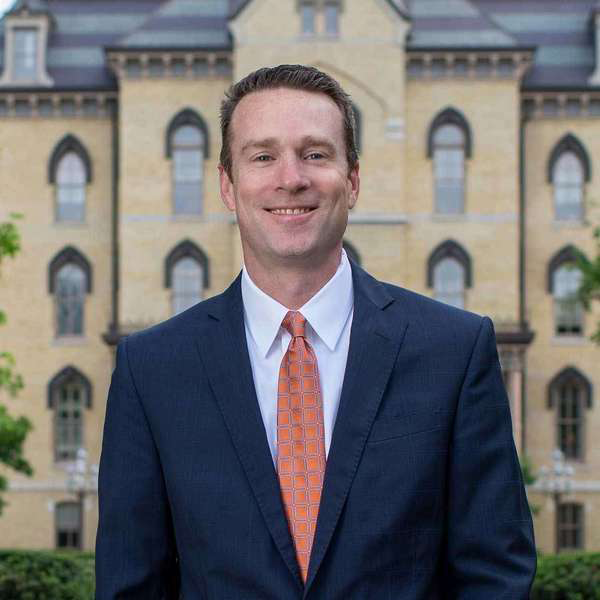 Could you see yourself returning to the Saint Joe community after four years as a student? Marty Harshman certainly wouldn't have thought so when he attended Saint Joe High School back in the 90's, but the forces of fate brought him back for an additional eight years. To say Harshman impacted the Saint Joe family is a severe understatement, and many will never forget how he changed Saint Joe for the better.
As a student, Harshman had his fair share of involvement with athletics, specifically as a member of both the track and basketball teams. Having these different experiences outside of the classroom was very valuable to him. They allowed him to connect with fellow students and become more involved as a member of the student body.  Harshman deeply values the friendships he made, and in fact, his leading group of friends remains some of his closest peers to this day. When asked about some of the most significant impacts he felt because of the Saint Joe family, he immediately explained the challenges that his teachers put him through. Although he was never a straight-A student, Marty is thankful for his teachers, who pushed him to do better and truly taught him how to learn. This left a lasting mark on him as a student and set him on a path of success for his college years and working life afterward.
Memories are an essential part of the high school experience, and Harshman definitely has a few from Saint Joe that he could never forget. His fondest memory is how lucky he was to be a part of the Saint Joe basketball team in 1993 when their hard work paid off, and they were able to reach the Final Four. The close bonds one forms simply from being a team member are unforgettable.  He also mentioned how thankful he is for how supportive the school community was of his team. Because of the experiences they shared, his whole team became close friends on and off the court. Another memory of Marty's is of the current Theology teacher, Mr. Kostielney. When he was a student at Saint joe as well, Marty will never forget the day that a raccoon snuck into his locker and ate his lunch!
One teacher stood out –  his freshman year math teacher Mrs. Derwent, who was "super bright," even saying that she "could have been successful in a variety of professions." Her undeniable passion for teaching and her commitment to the success of all students were extraordinary. He remembers how she would stay after school most days and offer help to struggling students, which he appreciated because he was one of them. She was ultimately recognized for her efforts as a teacher, and Harshman said, "I remember seeing her picture in the USA Today being recognized as one of the nation's best teachers and could not have agreed more." Mrs. Derwent and all of the other teachers create the environment of happiness and support that is the Saint Joe family.
Harshman firmly advises that we should not take our current Saint Joe facility for granted. In his words, "the building, amenities, and grounds are spectacular," and he is entirely right, but Saint Joe is more than just a school; instead, it is a family, and on top of that, we have such a wonderful building to center our efforts in. Not only was Harshman a student in the old building, but he worked there as well, and the lack of air conditioning was one aspect in particular that he will never forget!
After returning to Saint Joe in 2005, Harshman became the Assistant Principal and immediately set straight to work, improving anything he could to create the best high school environment possible. In 2008, he became the Varsity Boys Basketball Coach, the perfect opportunity for a former Indian standout. After leaving Saint Joe in June of 2013, Harshman moved on to the University of Notre Dame, where he is currently employed as a Sr. Advisor to the Executive Vice President. Although he no longer visits Saint Joe High School every day, the experiences, memories, and relationships from his twelve years changed his life permanently and allowed him to become the man he is today.