Organizer-In-Chief: How Mike Schmuhl ascended to the national stage
Mike Schmuhl is no stranger to being the underdog. 
Over his 11 years in American politics, the Saint Joseph graduate has organized mayoral, congressional, and presidential campaigns that were once viewed as long-shot bids; but time and time again, the seasoned campaign manager has overcome the odds to reach victory, surprising an entire city — and even an entire nation. 
But although Schmuhl has gained valuable experience in organizing Congressional and Mayoral campaigns in his home state of Indiana, the magnitude of organizing a presidential campaign brought on tasks and competition at a significantly larger scale. As the campaign manager for Pete Buttigieg's presidential bid, the 37 year-old Schmuhl was entering a presidential primary of nearly 30 people, packed with senators, billionaires, members of Congress, and a former Vice President, making the campaign unsure whether an unknown Mayor from South Bend could break through as a contender for the American presidency. 
Leading up to the 2018 midterm elections, Buttigieg and Schmuhl, who were close friends at Saint Joe, had conversed on the phone about what the South Bend Mayor should do after his term comes to an end and they brainstormed about what a potential presidential bid may look like. Schmuhl was living in New York City working as a consultant and the next big step in getting the campaign started would be for him to move back home to South Bend to organize the logistics.
"The outlines were there of what we wanted to do to raise his profile," Schmuhl said. "It was more like should I physically come back to South Bend and he (Mayor Pete) was like 'yeah.' And I was like 'okay.'" And after he moved back home, they got to work.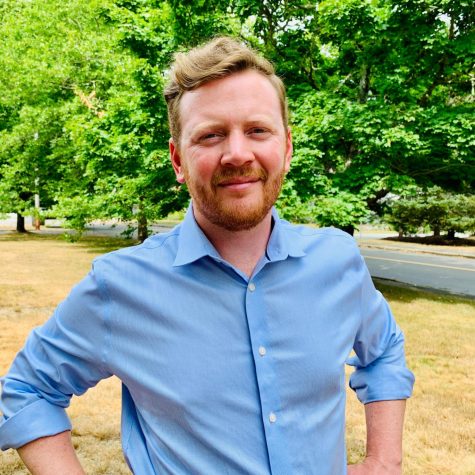 Headquartered at a small office of less than 1,000 square feet in downtown South Bend, they began plotting the audacious run of Mayor Buttigieg, but not with the large resources a presidential hopeful can typically lean on. 
"It was kind of wild," Schmuhl remarked. "From fall 2018 to January 2019, it was three Notre Dame interns, me, Lis Smith (communications adviser), and a couple volunteers. We had zero dollars in the bank. [Mayor Pete] had about 25,000 people on his email list, which is not a lot. But what we had was a really great candidate, and a really compelling story."
After the launch of their presidential exploratory committee in January, they hit the ground running with campaign events in early primary states like Iowa and New Hampshire, while making frequent media appearances to bolster the Mayor's name recognition–one of which was a CNN town hall in March 2019 where Buttigieg went viral after a comment about Vice President Mike Pence, animating a much-needed boost for the campaign. "The March CNN town hall really changed things for us," Schmuhl said on the podcast Campaign HQ. "From March 10th through our announcement in April, the trajectory of the campaign was completely different and we knew that we had some real energy behind us. As a campaign manager, it was really tough. All of this attention, money, applications–it's just coming at you at once. What we had to do was build a plan and really build a campaign from 0 to 60 very very quickly."
"
What we had to do was build a plan and really build a campaign from 0 to 60 very very quickly."
— Mike Schmuhl
As the campaign went into high-gear following their official launch in April, fundraising began to excel and Schmuhl started to hire hundreds of staffers across the country. What began as a long-shot bid from a small office in South Bend evolved to a massive national following; Buttigieg rallies began to ignite with enthusiasm and the campaign raked in cash and endorsements while building strong foundations in early states. Soon, their hard work would come to fruition as Buttigieg skyrocketed in Iowa polls, with some showing him in third place. 
For the next year, the campaign would continue criss-crossing the country in a bid to clinch the nomination. State fairs, campaign speeches, and meet-and-greets would become the norm as they excelled in fundraising, ultimately raising over $100 million from nearly a million unique donors.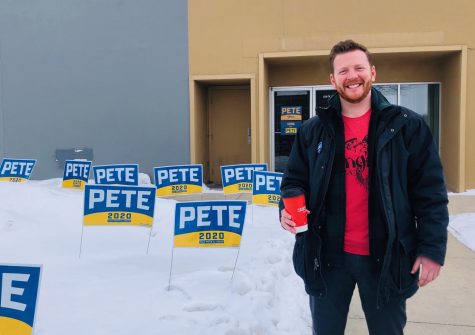 By the time the highly-anticipated Iowa Caucuses arrived in February 2020, Schmuhl felt good about their chances. With high voter enthusiasm, strong polling numbers, and a unique organizational strategy, they knew that Iowa would deliver a strong start to their primary season. But after results weren't reported that night due to technical issues, they were left surprised and their entire delegate strategy was put into jeopardy.
"It was a frustrating night," Schmuhl said. "Our whole strategy was built around Iowa and doing well in Iowa, similar to two other politicians who became president: Jimmy Carter and Barack Obama. That was really the linchpin of our strategy: win Iowa, surprise the nation, and use the momentum from that to go full-on to the other states." Days later, after multiple recounts, Buttigieg would be declared the winner of the Caucuses, a feat that no one would have predicted a year before it took place.
So how did an unknown Mayor from Indiana go from virtually no name recognition to winning the Iowa Caucus in just 13 months? Schmuhl says the campaign's organizing style set them apart from the rest. "We devised a model that was more about people you know opposed to going out there and texting, phone calls, and door-knocking on mass," Schmuhl said. "Our model was that people who are passionate about Pete or like Pete can reach out to people they know from their gym, church, work, etc. They reach out to the people they know in the right way. . . so we basically gave free-reign to people on how to do that."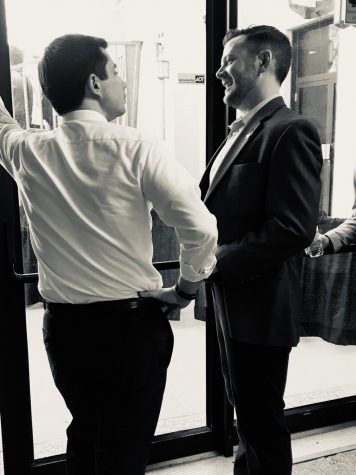 Although the campaign was ahead in the delegate math heading into New Hampshire, they did not receive the boost that a candidate typically gets after winning Iowa. Perhaps consequentially, Buttigieg would have weaker showings in the next contests, leading to the campaign being suspended on March 1st . 
Looking back, Schmuhl says one thing he would have done differently would have been to create a strategy more inclusive of Super Tuesday and a long-term vision. "One thing I would have looked into more is devising a strategy that wasn't all in on Iowa," Schmuhl said. "I would've looked into a strategy that was more long-haul and next-generational. But it's tough; a lot of people ran. Bernie Sanders is just so dominant with young, liberal voters it's hard for the young guy to break into that cohort."
But Schmuhl is still proud of how he ran the campaign, especially considering that most of the senior roles were filled by young people like him in a field that can often be dominated by older generations. "This century has already been defined by a lot of difficult things but it's gonna get even harder," Schmuhl said. "We need young people with that passion, drive, and energy to take the baton over the next few years." 
In addition to a presence of young folks on the campaign, a sense of tranquility was also existent among most senior leaders. Staffers at Pete for America would often joke that the 37-year old Schmuhl has an 'NPR voice'; but being calm is a natural part of Schmuhl and a quality he views as important in our political landscape. "I think it's important because far too often politics is about bashing somebody or the crazy headline or negative attacks or sensationalism," Schmuhl said. "I think one of the reasons why Pete and I have been successful is that we're both not like that. We're both thoughtful, midwestern, quiet, and humble. If you let politics take over, it'll take over your life and how you think, and I just refuse to let that happen."
But although Schmuhl is calm and comfortable in politics right now, he didn't always see it as a career path; emerging from grade school, he wanted to enter the medical field and become a doctor, an occupation he soon grudged away from as he realized he was suited for a field in journalism or politics, topics he would engage with at Saint Joseph High School. "The arts and humanities classes were really really strong and memorable for me," Schmuhl said. The future political operative was in the class of 2001 involved in the school community as a member of Quiz Bowl, Swimming, and Cross Country, creating lasting memories that only strengthened his favorable view of his high school. "Saint Joe is a good school; it's a good place to get an education," he said. "Looking back, I think it prepared me for what I've gone through in my life." 
Schmuhl's passion for politics and news would carry on to his college experience at the University of Notre Dame, where he majored in history and minored in European studies. He spent a semester of his junior year in Washington D.C. interning for the political news show "Meet the Press," an opportunity that solidified his passions. "One of the main reasons I got involved with politics and journalism was I did the Washington, D.C. program my junior year," Schmuhl said. "[Interning with 'Meet the Press'] was awesome and just a great experience." His time in the nation's capital would lead him to return there following graduation from Notre Dame; in 2005, he was hired by the highly-acclaimed Washington Post, where he was a radio and television producer — an experience that was not only impactful in the moment, but one that would prepare him for careers to come. "For me it was really amazing to have a front-row seat in the newsrooms to all that was going on. Particularly how news organizations covered politics, politicians, and campaigns," the Notre Dame grad said. "So that really helped me in future things that I did with Pete and other candidates."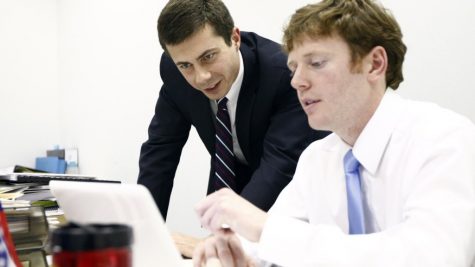 Schmuhl's political drive and connection to his hometown brought him back to South Bend in 2009 as he managed Joe Donnelly's successful bid for congress. Just months after heading this campaign, Schmuhl took on the same role with his former Saint Joe classmate, Pete Buttigieg, as he managed their audacious Mayoral campaign, a run ignited by their passion for South Bend and a vision to turn around the city characterized as "dying" by Newsweek magazine. "The timing was perfect because if national news outlets are saying we're dying, and we're dying mainly because young people aren't sticking around, we were looking at ourselves like, 'hey we're young, we can change this,'" Schmuhl said. 
Schmuhl took this to heart as he organized a campaign that ultimately defeated other established Democratic candidates in the area and ushered in a transformation of South Bend that Schmuhl helped lead. For the first 17 months of Buttigieg's stint as Mayor, Schmuhl was the Chief of Staff, making him the right-hand man of his high-school classmate and giving him a high-level role in shaping his hometown. "I think what I learned was how much I didn't know about the city," Schmuhl said. "When your job is really focused everyday on running the city, you learn so much more about what goes on in the daily rhythm of the community. For me, it was incredible to absorb all of that and lead the city with Pete. A city does so much that I don't think people realize and when you're right there in it it's really fascinating, it's really cool."
"
When your job is really focused everyday on running the city, you learn so much more about what goes on in the daily rhythm of the community."
— Mike Schmuhl
Schmuhl would end up leaving this role in May 2013 to get a masters in international affairs at what is considered to be the "Harvard of France": the Paris Institute of Political Studies. At the time, he felt burned out from politics and needed a refresher, which made a two-year education abroad an ideal escape. "I was a young guy, I was 30 years old, I had run two campaigns, I was Chief of Staff in the City, and I was also the party chairman of the Democratic Party," Schmuhl said. "I wanted to live overseas, get an advanced degree, travel, read, and do all that. It was a perfect fit for me. It was a remarkable experience."
Now, at the age of 37, Schmuhl is living a "happy and healthy" life in South Bend. Absent from social media, which he deems "unhealthy," and without a car, he is very much old-school — a quality reflected in his recent purchase of "Joe's Tavern," a bar on the south side of South Bend which he is fixing up and hopes to open in 2021. He also serves as a Director at Heartland Ventures, a venture capital firm where he helps find new technology and startups that benefit the midwest. "I work with some of our investors; I do all of our press and PR and look at the deals that come in," Schmuhl said. "I learn a lot about venture capital and finance and investing and then I give my skills back to the fund." 
Although Schmuhl is currently in the "offseason" of politics, he is making a surprise return as he launches a bid for the Indiana Democratic Party Chair. As an experienced campaign manager and millennial, he would insert a fresh perspective to the state party at a crucial turning point in American politics. After initially declining to run for the position, Schmuhl is now putting his hat in the ring, bringing his cumulative judgement, expertise, and political acumen to the state of Indiana.
"I was reflecting on my career over the last 10 years and I picked up a lot of skills and connections and wanted to put them to good use," Schmuhl said in an interview with Importantville. "And I feel as though the state Democratic Party needs a new vision and a new strategy and something for people to believe in."
About the Contributor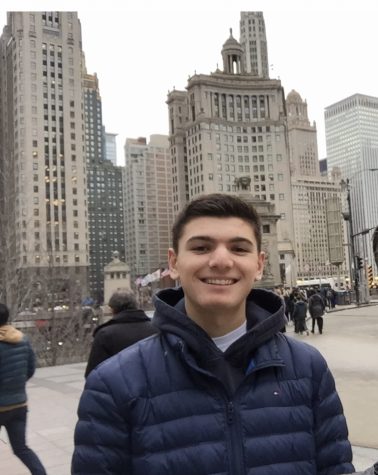 Onur Toper, Staff Writer
My name is Onur Toper and I am a senior at Saint Joseph High School. I am an ICU volunteer, Captain of my school's tennis team, and participate in other...