Kristin Danielson: Former St. Joe and Notre Dame Soccer Star
As one of the top soccer players to ever take the field in a Saint Joseph uniform, Kristin Danielson followed up her Saint Joe career with a successful tenure with the Notre Dame Fighting Irish. The Fighting Irish were a women's soccer powerhouse in the late 1990s, and Danielson was able to have a role on some truly fantastic teams.
"I had the opportunity to play alongside some of the most remarkable female soccer players in Notre Dame's history" she said about her experience at Notre Dame. Several of these players would go on to represent the United States of America in various Women's World Cups, including the famed 1999 World Cup. As a soccer player during this time, Danielson had a front-row seat to the cultural impact that this team would end up having on the nation.
"I remember being a young girl and going to camps and seeing some of the women, and just wanting [Mia Hamm's] autograph. She was the name of soccer at the time, for all of us little girls. By 1999, there were several names, like Brandi Chastain. They became these women who could prove to the world that they could get it done. It was exciting for everyone."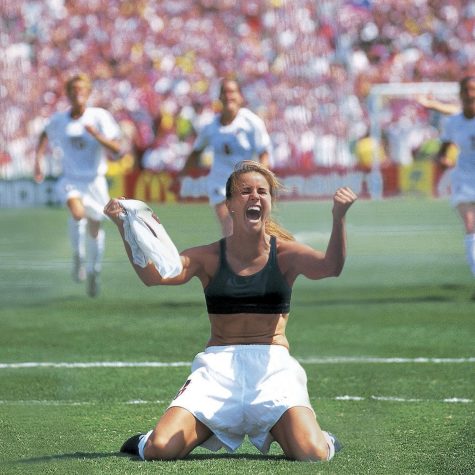 However, the fame of some players didn't have an effect on the formation of bonds within the Fighting Irish team. "The friendships and the closeness of the team was like nothing I could have ever imagined. It was a family, similarly to St. Joe, and there was just a lot of support and a lot of love." 
"I made great friends on the team; friendships that have lasted over the years."
Yet her Notre Dame tenure was not without challenges, particularly coming out of a career at Saint Joseph's where she often was the star of the team.
"That was a challenge for me, going from playing all the time to being on a team where I knew I wasn't going to see much playing time. You have to make a decision[as to] which part of the team are you willing to be. In the beginning it was hard to make that transition, from a starter to not seeing much time, but over time you realize that everyone has a role on a team. Whether that's in theater, or it's in a family, or in a certain sport, you have a role." 
Preparing Danielson for a role on one of the NCAA's premier women's soccer programs was an illustrious career at Saint Joseph High School.
"
The rigor and the training at Saint Joe really prepared me for the training at Notre Dame. "
— Lauren Danielson
Luckily, another thing that stayed constant was the tradition of success – a hallmark of both programs at the time. Notre Dame had just won a National Championship in 1995 and was a perennial championship threat.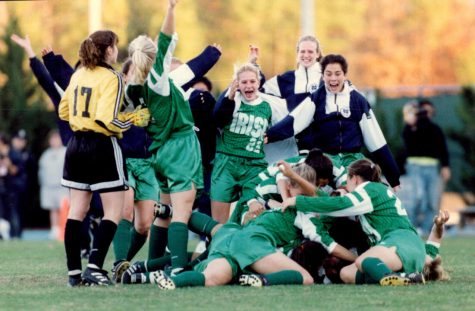 Across the street, the Saint Joseph's teams were no stranger to high levels of competition in their own right, winning five straight sectional championships from 1994-98, and making numerous appearances in both the semi-state games and the state title game. These were some of the highlights of Danielson's time at Saint Joseph.
"One of my favorite memories is the first time we made it to state, that was really exciting. We played against Carmel–we could never beat them–but I remember we arrived early in the morning from the school, and just walking out of Saint Joe High to get on the bus, having family, friends, and fans there as we climbed on to the bus. I just remember thinking that even if we didn't win, which we really wanted to, just having the community support was so awesome."
This level of success occurred even without many of the new luxuries enjoyed by our athletes today. Instead of being held at the current north facilities near St. Patrick's County Park, practices took place in a field in Roseland on the other side of the Indiana Toll Road. Kristin describes the area as "overgrown," but does note one perk of the location–"School would end and we'd go to [a nearby] Wendy's, the whole team, and have Frosties." Games had to be held at rival Marian's campus or at School Field. 
Although the conditions could be (generously) described as functional at best, Danielson firmly believes that her time at Saint Joseph was a positive one.
"The school was home" she insists, despite the flaws the building had. "It was such a great place, the people were wonderful, the teachers were wonderful. "And you could look beyond [its flaws] because it had a lot of history, and in history, is comfort."
In the end it clearly translated well into success for Danielson, both at Notre Dame, and beyond.
Today she is happily married with three children, and lives in California.